Advanced PMR Teams Up With Industry Leader Health Plus Management
Press Release
-
updated: Jul 24, 2018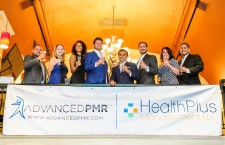 RED BANK, N.J., July 24, 2018 (Newswire.com) - Advanced Physical Medicine & Rehabilitation has teamed up with Health Plus Management, LLC (Health Plus) and together they will encompass 30 state-of-the-art facilities throughout the New York and New Jersey area. Advanced PMR was founded by Dan Reizis, DPT, and has emerged over the last 7 years as a known and trusted provider of best-in-class physical therapy and exceptional customer service across the communities it serves. Health Plus is the market leader in clinical practice management, and the recent transaction paves the way for accelerated growth while bringing on additional medical services including pain management and orthopedics. 
Co-owners Dr. Daniel Reizis & Harris Hafeez of Advanced PMR see teaming up with Health Plus Management as a significant expansion. "We are beyond excited about this recent transaction and are thrilled to have joined forces with the market leader in healthcare," said Harris Hafeez, Advanced PMR's Co-Owner. "I look forward to building upon this relationship for many years to come."
"We have a committed team and are deeply rooted in our communities," said Co-Owner Dr. Daniel Reizis. "Combining our companies gives our patients additional locations and will help further broaden our service offerings to continue to include exceptional results to our patients." 
"Advanced PMR epitomizes stellar services and consummate patient care," said Stuart Blumberg, Health Plus founder and CEO. "We are thrilled to take on management and support of APMR, and we expect tremendous success in working together to develop APMR into a strong, multi-specialty, platform for best in class rehab care in NJ."
Advanced PMR provides physical therapy, acupuncture and a variety of other rehabilitation services. Their facilities are outfitted with state of the art equipment. All of their specialists have one goal in mind, to ensure that their patients are completely satisfied and back to 100% in no time. 
Awards given to Advanced PMR:
Best of Monmouth 2012, 2013, 2014,2015 & 2016
NJ Top Docs awards since opening in 2011 
Monmouth Health & Life in 2014, 2015, 2016
Asbury Park Press Best of the Best every year since 2012
BUSINESS HOURS
BRICK     Mon, Tues, Wed: 8AM - 9PM Fri: 8AM - 7PM 
EDISON     Mon, Wed, Thurs: 8AM - 8PM Fri: 8AM - 7PM
LAKE COMO     Mon-Thurs: 7:15AM - 7:15PM Fri: 7:15AM - 6:45PM
MANALAPAN     Mon, Wed: 8AM - 9PM Tues, Thurs: 8AM - 8PM Fri: 8AM - 7:30PM 
MORGANVILLE     Mon, Wed: 8AM - 8PM Thurs: 8AM - 11:30AM Fri: 8AM - 7PM 
RED BANK     Mon-Thurs: 7:45AM - 7:45PM Fri: 7:45AM - 7:15PM
Source: Advanced PMR
---
Categories: Healthcare and Medical News
Tags: Acupuncture, Business, Chiropractor, Medical News, Physical Therapy, Small Business
---