Advanced Geosciences Inc. Announces Next-Gen Marine Survey System
The new product announced by AGI aims to revolutionize marine resistivity surveys
Press Release
-
updated: Sep 19, 2018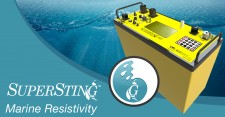 AUSTIN, Texas, September 19, 2018 (Newswire.com) - On Aug. 24, 2018, Advanced Geosciences Inc. (AGI) launched its Third-Generation SuperSting™ Marine Resistivity System. The new resistivity system is a vast improvement upon older generations and AGI believes that it will serve a wide array of marine applications, such as dredging, time-lapse studies, dam/levee diagnostics, subsurface pollution location and even marine construction. The ambitious system aims to revolutionize geophysical marine surveys.       
"Before this system, there was a lot of guesswork involved in performing a marine survey. You had to guess how long you would be on the water, where you needed to be to collect the data and even if you're surveying the right depth. Our new SuperSting™ Marine Resistivity System replaces that guesswork with actual data — visualized in a clear way," said Markus Lagmanson, geophysicist, VP operations for Advanced Geosciences Inc.
All SuperSting™ Marine Systems include a tablet that hosts a suite of new features. AGI has crafted these features to mitigate uncertainties that arise during marine surveys.
For instance, the AGI Survey Planner allows users to map out survey paths before they hit the water. With this, users will get a good idea of project costs and time. Users can also track their survey in real time with a map and visualized data plots. Surveying in the wrong depth will alert users with a warning. With Playback Mode, users can review all collected data before returning to land — and playback their surveys to clientele or colleagues.
The new system is far more than a project management tool, though. The SuperSting™ Marine Resistivity System course corrects issues that can only happen on a boat.
With Geodesic Track Corrections, the system handles errors that arise when traveling through Universal Transverse Mercator (UTM) grid zones. Users can tune to the handling characteristics of their boat with the Precise Guided Navigation feature. AGI has also outfitted the system with Route Optimization — which will be a key feature on the water. Route Optimization will calculate the shortest survey route possible and show users where to turn for the straightest survey lines. It also has dynamic course correcting should users ever miss a survey point.  
"When building this system out, ease-of-use was the most important factor. Geophysical surveys on the water can be more restrictive than surveys on land. We wanted to solve for the pain points that we knew existed — and could exist in the future. I believe that our team has not only accomplished this goal — but has made something pretty revolutionary in the process. I think this product is going to lead to some important work in various fields — not just in geosciences. I can't wait for others to start seeing and believing that too," said Lagmanson.
The Third-Generation SuperSting™ Marine Resistivity System is available to order now. For more information, visit AGI's website at www.agiusa.com.
Since 1989, Advanced Geosciences Inc. (AGI) has been the leading developer and manufacturer of geophysical instruments and inversion software. AGI introduced its first resistivity imaging system at the European Association of Exploration Geophysicists conference in 1994 — which introduced the resistivity imaging revolution. Since then, AGI has been producing state-of-the-art products for subsurface Electrical-Resistivity, Induced-Polarization and Self-Potential Imaging.
For more information, please contact Markus Lagmanson by phone: +1.512.335.3338 x1013 or email: markus@agiusa.com or visit AGI's website: www.agiusa.com.
Source: Advanced Geosciences Inc.
Share:
---
Categories: Environmental Protection, Civil Engineering
Tags: dam monitoring, electrical resistivity, geophysical survey, levee monitoring, marine construction, marine resistivity, marine survey, resistivity
---