Advance ER Responds to Texas' Ranking as Worst Flu State in the United States
Press Release
-
updated: Feb 27, 2018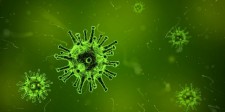 DALLAS, February 27, 2018 (Newswire.com) - Texans like to do things big, and the flu season this year is no different. According to statistics gathered by Walgreens pharmacy, Texas holds the record as the worst state in the U.S. for the flu. Advance ER, a freestanding, full-service ER in North Dallas, concurs that there are currently more cases of influenza coming into the ER than any other condition.
In response to this flu epidemic, Advance ER Director Dr. Michael Chiang recommends prompt treatment within the first 24 hours. "If you can get to the doctor or ER before the first day has passed and get the medication, your flu symptoms will likely be reduced in duration and severity," said Dr. Chiang.
The flu strain that is most prevalent this year is Influenza A (H3N2), a virus that hits the elderly, infants, children and immunocompromised people hard. Symptoms include: fever, cough, runny nose, body aches, fatigue, nausea, vomiting and diarrhea. In addition, patients may experience headaches, sneezing and sore throat. Untreated, this virus lasts approximately two weeks and most people recover on their own. However, some people may require hospitalization to fully recover from the flu and its secondary symptoms.
Warning signs include: fast or labored breathing, pain or pressure in chest, pain or pressure in abdomen, blueish skin color, dehydration, confusion, fever with a rash, severe vomiting, not responsive, or flu symptoms that diminish but then return with a cough. "If you experience any of these warning symptoms, go to the nearest ER immediately," said Dr. Chiang. "If your baby has few wet diapers, no tears when crying or trouble breathing, take him or her to the ER immediately."
With the flu season estimated to continue until May, according to the Center for Disease Control, Texans are advised to take every precaution to stay healthy. To try to prevent the flu, make a practice of frequent handwashing and hand sanitizing, cleaning surfaces, sneezing into a tissue and throwing it away, avoiding sick people, and being careful not to touch your nose or mouth throughout the day.
For additional information, read and download the infographic, "Health Alert: Escalating Flu Season," issued by Advance ER, at https://advanceer.com/health-alert-escalating-flu-season. For fast flu response and treatment, visit Advance ER at one of its two convenient locations: Park Cities at 5201 West Lovers Lane and Galleria Area at 12338 Inwood Road. Open 24/7 every day of the year, Advance ER offers groundbreaking No Wait access to board-certified physicians and concierge-style services.
Contact:
​Dr. Rajesh Rao ​
​Managing Partner
​Advance ER
(713) 870-3275
​rrao@advanceer.com
#  #  #
About Advance ER:
Advance ER is a locally owned, freestanding walk-in Emergency Department. Open 24/7, Advance ER offers full emergency room services for both major and minor medical needs for adults and children. Services include fast access to specialists such as a pediatrician, cardiologist, hand surgeon and dermatologist. On-site services include CT scan, X-ray, ultrasound imaging, laboratory testing and complete pharmacy. Our concierge service offers rapid service and easy access to board-certified specialists. Advance ER is available in two convenient Dallas locations – Galleria Area at 12338 Inwood Road, and Park Cities at 5201 West Lovers Lane. For more information, visit us online at www.AdvanceER.com or call Galleria Advance ER at (214) 238-6270 or Park Cities Advance ER at (214) 238-6440.
Source: Advance ER
Share:
---
Categories: Healthcare, Healthcare and Medical News
Tags: Advance ER, Dallas ER, Emergency Room, Epidemic, ER, Flu, Flu Epidemic, Flu Season, Flu Treatments, Treating Flu
---