adsquare & 180byTwo Team Up to Help Marketers Access Deterministic Mobile B2B Data at Scale for a New Level of Mobile Programmatic Advertising
Press Release
-
updated: Feb 27, 2018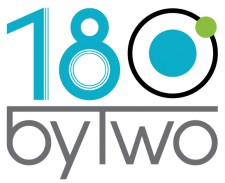 RESTON, Va., February 27, 2018 (Newswire.com) - 180byTwo announces today that their audience data is available on adsquare's mobile-first data exchange, enabling advertisers to precisely reach their B2B target group on the most personal device. 180byTwo specializes in deterministic mobile audience data sourced from premium B2B offline and online partners.
Through the strategic partnership with adsquare, 180byTwo is able to leverage their extensive data assets, which includes verified business listings, public tax filings, beacons, memberships, loyalty programs, associations, co-ops, SDKs and WiFi access points as well as various other sources of high-quality data. All of this has been elegantly stitched together to form quality actionable audience segments providing marketers with access to hard-to-reach B2B audiences.
180byTwo empowers brands to enhance their ability to see the full 360-degree view of their prospects and customers. Using 180byTwo enhanced segments and profiles, marketers are able to more efficiently target people regardless of where they are - at home, at work or at play.
The partnership between adsquare and 180byTwo introduces a next generation of mobile marketing capabilities with a uniquely differentiated data offering. 180byTwo's data is engineered from a broad and extensive network of data sources. Through the linking of over 80,000 personal and professional attributes of known people, 180byTwo is able to create highly accurate and targetable audiences.
"180byTwo offers one of the best-in-class global B2B data solutions. As deterministic data is at the heart of our platform, we believe that the partnership will enrich our current offering with verified and precise data sources from multiple data points for holistic audiences," says Tom Laband, CEO and co-founder at adsquare, about the partnership.
Through this partnership, adsquare's data marketplace will integrate 180byTwo's extensive audience suite of business and consumer attributes. By adding 180byTwo's robust and validated deterministic mobile data to adsquare's extensive offering, advertisers, brands and enterprises can now get a 360-degree panoramic view of their customers for more relevant and personalised advertising experiences.
"adsquare's mobile marketplace enables advertisers a unique ability to use mobile data effectively. By including 180byTwo audience data in adsquare, we aim to be a key part of clients' and agencies' mobile targeting solution. We aim to ensure that brands can reach their goals with authenticated B2B and B2C mobile audience data," says Ben Goldman, co-founder and CRO of 180byTwo. "We are excited to showcase our mobile-first mindset on the leading Mobile-First Data Exchange. 180byTwo's reach, accuracy and flexibility along with our ability to properly package audiences leveraging the right signals, we aim to deliver truly accurate insights that help make data actionable."
About 180byTwo
180byTwo is an industry leader in global audience solutions: leveraging multi-sourced offline, online, mobile, location, signal, proximity and various other data points across industry verticals designed to help marketers and platforms more efficiently and effectively target businesses, consumers and professionals across channels and devices wherever they are. 180byTwo works with thousands of clients and partners around the globe to provide best-in-class solutions and services so that they can make the most informed decisions through data to drive ROI.
For more information, visit 180bytwo.com, follow @180bytwo or contact us at connect@180bytwo.com.
About adsquare
adsquare is the mobile-first data exchange bringing together data buyers and sellers in a transparent and secure environment. The platform is built mobile-first and makes data accessible in real-time, enabling advertisers to create holistic audiences and to target consumers' mobile moments. Programmatic buyers can take control via the self-service Audience Management Platform which gives them full transparency in buying data, creating audiences and activating them on the platform of their choice. adsquare offers a broad portfolio of data from mobile, online and offline sources including location behavior, app usage, demographics and interests. In addition, advertisers can discover the private marketplace for private deals with first-party data owners including app publishers, telcos and e-commerce. For validated data at scale, advertisers can tap the adsquare Data Alliance, which aggregates deterministic data and combines it with validated third-party segments. adsquare is fully compliant with strict European privacy laws, respects data ownership and offers a secure environment.
For more information, visit adsquare.com, follow @adsquarecom or contact info@adsquare.com.
Source: 180byTwo
Share:
---
Categories: Advertising, Marketing, High Technology
Tags: 180byTwo, adsquare, Advertising, B2B, Data, marketplace, Mobile, Programmatic
---