ADEC Innovations' CleanChain Named to Supply & Demand Chain Executive's SDCE 100 Top Supply Chain Products for 2018
Fourth Accolade in a Year for Recently Launched Software Solution Providing Unprecedented Transparency for Global Supply Chain Practices
Press Release
-
updated: Aug 14, 2018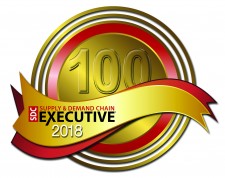 IRVINE, Calif., August 14, 2018 (Newswire.com) - ADEC Innovations, a pioneer in environmental, social and governance (ESG) solutions that create positive social and environmental impacts, announced that Supply & Demand Chain Executive, the executive's user manual for successful supply and demand chain transformation, has selected CleanChain as a recipient of an SDCE 100 Award for 2018. Since September 2017, CleanChain has also been recognized with three other prestigious awards: the "Top Environmental Product of the Year" Award from the Environmental Leader and Energy Manager Today Product & Project Awards, the "Sustainability Product of the Year" Award from Business Intelligence Group and the "Green Supply Chain Award" from Supply & Demand Chain Executive.
Nominated by MAS Holdings (MAS), a leading manufacturer of intimate apparel, sports, swim and performance wear, CleanChain is a data management and communication tool designed to support and manage environmental and sustainability challenges throughout global supply chains. As part of its zero-toxic commitments, MAS needed a process and reporting system that provided inventory registration and management, usage tracking and dashboard views for each of their numerous facilities around the globe. After reviewing a number of different solutions, MAS selected CleanChain because it offered a number of unique features not offered by other software companies and allowed them to create the solutions their manual approach had not delivered.
Launched in September 2016, CleanChain provides brands and retailers with a system for consolidating chemical and other supply chain data across the entire supply base. By using CleanChain, companies have the ability to engage with each other and work towards improving environmental, health and safety practices throughout their manufacturing processes, including eliminating the discharge of hazardous chemicals. 
"We are proud to have developed a tool that empowers brands, retailers and manufacturers to make more informed and responsible sourcing decisions," said Robert A. Francisco, president, ADEC Innovations. "ADEC Innovations is committed to developing solutions that accelerate positive global impact. The continuing recognition of CleanChain is an encouraging sign that the industry shares those core values and is ready to prioritize sustainability."
The SDCE 100 is an annual list of 100 successful and innovative supply chain projects, spotlighting them for supply chain executives who are looking for new opportunities to drive improvement in their own operations. These projects show how supply chain solution and service providers help their customers and clients achieve supply chain excellence and prepare their supply chains for success.
"First and foremost, we want to congratulate the winners of this year's Top 100 for their successful and innovative projects, which serve as models to companies of all sizes for what is achievable in their supply chains," says John Yuva, editor for Supply & Demand Chain Executive. "Regardless of company size, these projects are best-in-class examples of the types of efficiencies and bottom-line results that supply chain executives should be striving toward in their own operations. Our 2018 winners provide a roadmap for how to get there."
The CleanChain network has grown exponentially since its inception, helping companies reduce impacts in their supply chain and reach their corporate sustainability goals and milestones.
Noted Sharika Senanayake, director environmental sustainability, MAS Holdings, "MAS has a larger vision to be zero-toxic in product, process and supply chain by 2025. Chemicals play a big part of our integrated strategy, where we have committed to take bold climate action, manage our footprint and support a thriving planet. CleanChain empowers us to know where and how we can make a positive impact."
About Supply & Demand Chain Executive
Supply & Demand Chain Executive is the executive's user manual for successful supply and demand chain transformation, utilizing hard-hitting analysis, viewpoints and unbiased case studies to steer executives and supply management professionals through the complicated, yet critical, world of supply and demand chain enablement to gain competitive advantage. Visit them on the web at www.SDCExec.com.
About MAS Holdings
One of the world's most recognized design-to-delivery solution providers in apparel and textile manufacturing, MAS manages a portfolio of businesses with a revenue of USD $1.8bn. It is also the largest apparel and textile manufacturer in South Asia. Headquartered in Sri Lanka, MAS serves 53 manufacturing facilities placed across 16 countries, with over 97,000 people involved in its operation. With a diverse portfolio under its umbrella, MAS is driven by the vision to create a self-sustained ecosystem in the global business arena.
About ADEC Innovations
ADEC Innovations' environmental, social and governance (ESG) business advances sustainable practices around the world and helps organizations responsibly grow and operate. With access to ADEC Innovations' global workforce of over 5,000 employees spanning five continents, ADEC Innovations is able to seamlessly deliver fully integrated, cost-effective consulting, data management and software solutions to ensure we meet our clients' ever-evolving ESG needs and help them save time, reduce costs, optimize resource use and drive operational efficiencies. Please visit esg.adec-innovations.com to find out more.
Media Contact
For MAS Holdings 
sustainability@masholdings.com
For ADEC Innovations
Michele Carchman
Phone: +1-714-508-4100
media@adec-innovations.com
Source: ADEC Innovations
---
Categories: Environmental, Supply Chain Management
Tags: cleanchain, environmental, esg, supply chain management, sustainability
---