Additive Implants Achieves Milestone of 200 Levels Treated
Press Release
•
updated: Mar 12, 2020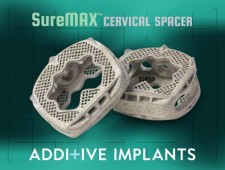 PHOENIX, March 12, 2020 (Newswire.com) - Additive Implants announced today that the company has reached the milestone of 200 spinal levels treated with the SureMAX™ Cervical Spacer. The milestone procedure was performed by Dr. Rafath Baig at Banner Desert Medical Center in Phoenix, Arizona. Dr. Baig commented: "I have been very pleased with the performance of the spacer and its unique surface features. The implant feels amazingly stable after insertion. The 14° Hyperlordotic option in particular is a powerful tool that has allowed me to obtain proper sagittal balance with relative ease. In patients with prior ACDF that were fused without adequate lordosis, using the 14° cage for junctional level detrition I can correct global balance through just a single level. The post-operative x-rays have not shown any signs of implant subsidence and the lordosis I achieved inter-operatively has been maintained." Jeff Horn, Additive's Chief Commercialization Officer said: "We could not be more pleased to see surgeons using our numerous sizing options to help their patients achieve the best possible outcome. We thought there was an unmet need in the market and are very excited to see such a positive response to the SureMAX™."
The SureMAX™ is part of the family of Cervical Spacers from Additive Implants.
The company's second 3D printed titanium spacer, SureMAX-X™, recently received FDA clearance. This spacer has a patented* unique lobulated design that uniformly loads the end plates helping to minimize subsidence. The two systems combine to offer a wide range of lordotic angles, 7°, 10° and 14° and footprints as wide as 20mm x 15mm.
About Additive Implants
Additive Implants, Inc is a leader in developing novel technology for spinal surgery, focused on addressing the unmet needs of spinal surgeons.
Additive Implant's technology is covered by US Patent #10,299,938 and other patents pending.
For more information, please visit www.AdditiveImplants.com. Contact Additive Implants at 3101 East Shea Boulevard, Suite 122, Phoenix, Arizona, 85028; (602) 418-6003.
Media Contact:
Jeff Horn, MBA
Chief Commercialization Officer
Additive Implants, Inc.
(602) 418-6003
JeffH@AdditiveImplants.com
Source: Additive Implants, Inc.