Additional Funding to Develop a Drug for Alzheimer's Disease
Press Release
•
updated: Jul 12, 2017
E-Scape Bio, a Gladstone spin-off company, extends its Series A financing to generate novel therapies to treat neurodegenerative disorders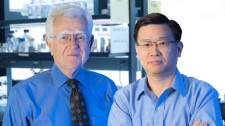 SAN FRANCISCO, CA, July 12, 2017 (Newswire.com) - E-Scape Bio announced an extension of its Series A funding to a total of $63 million. Created as a spin-off from research conducted at the Gladstone Institutes, E-Scape Bio is a biopharmaceutical company with a mission to develop new therapies to treat neurodegenerative disorders such as Alzheimer's disease.
E-Scape Bio obtained an initial investment of $55 million Series A financing from a syndicate of five top-tier venture funds (OrbiMed, Novo Holding A/S, Novartis Venture Fund, Johnson & Johnson Innovation ­– JJDC, Inc., and Osage University Partners). Its newest investors include Lilly Asia Ventures and Sutter Hill Ventures.
The biopharmaceutical company originated from the groundbreaking work of its scientific co-founders Yadong Huang, MD, PhD, and Robert Mahley, MD, PhD, two Gladstone senior investigators. E-Scape Bio is now developing small-molecule drugs that target the primary genetic cause of Alzheimer's disease by correcting adverse effects of the apolipoprotein E4 (apoE4) gene.
"Alzheimer's is a complex disease involving multiple factors," said Stephen Freedman, PhD, vice president of corporate liaison and ventures at Gladstone. "Our scientists made significant progress by uncovering the important role of apoE4 in neuron loss and cognitive decline. We wanted to translate their findings into therapeutics that could help patients with Alzheimer's disease, so we developed partnerships with companies that had similar objectives."
ApoE4 is the key genetic risk factor for Alzheimer's disease and is present in 60–80% of all Alzheimer's patients. People who carry the apoE4 gene have a much greater likelihood of acquiring Alzheimer's, and they develop the disease a decade earlier than other patients. While it is possible to test for apoE4, even if it is found in a patient, there are no effective therapies or drugs that target it.
"Our researchers invented a molecular tool to reduce harmful effects of apoE4 in the brain," explained Gladstone President R. Sanders Williams, MD, who serves on E-Scape's Board of Directors. "This company was founded on the strength of decades of basic research at Gladstone, and now we are proud to be associated with an exciting new company that can bring this science to the service of patients who truly need it."
Targeting apoE4 could delay or avert the onset of Alzheimer's disease in people who carry the apoE4 gene and cease or alleviate symptoms in those already suffering from the disease.
"The drug we are developing could help the millions of Americans afflicted by Alzheimer's disease, and for whom there are currently no effective treatments," said Leon Chen, PhD, interim CEO of E-Scape Bio. "Backed by human genetics and strong mechanistic underpinnings, this target and project are extremely promising, and we are excited to pursue this endeavor."
###
About the Gladstone Institute
To ensure our work does the greatest good, the Gladstone Institutes focuses on conditions with profound medical, economic, and social impact—unsolved diseases. Gladstone is an independent, nonprofit life science research organization that uses visionary science and technology to overcome disease. It has an academic affiliation with the University of California, San Francisco. For more information about E-Scape Bio, visit escapebio.com.
Source: Gladstone Institutes
Tags
Additional Links