Addison Group Earns Spot on Crain's Business 'Chicago's Largest Privately Held Company' 2023 List
Press Release
•
Jul 12, 2023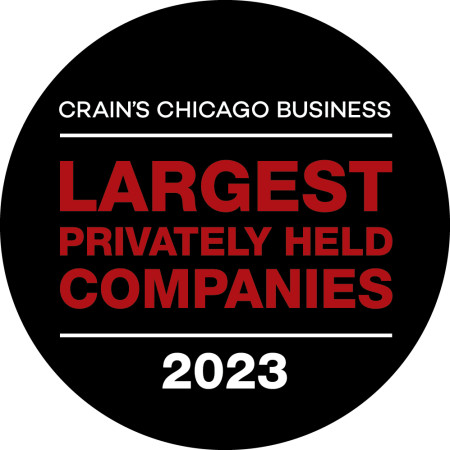 CHICAGO, July 12, 2023 (Newswire.com) - Addison Group, a leading provider of professional talent solutions and business consulting services, today announced that it has been named to "Chicago's Largest Privately Held Companies" 2023 list by Crain's Chicago Business.
Crain's Chicago Business, and its online component, ChicagoBusiness.com, is one of more than 20 business publications owned by Crain Communications, and considered a top source of news, deeper analysis, special reports, and information on business in metropolitan Chicago for decision-makers in the private and public sectors.
Since its inception in 1999, Addison Group (Addison) has strategically acquired smaller like-minded niche recruitment, talent development, and consulting companies that have given Addison its conglomerate status among the privately held. CEO Tom Moran is at the helm of each strategic acquisition, all of which have sustained gains in revenue and headcount to date. Overall the group currently employs nearly 6,000 people nationwide.
Michael Samuels, CFO, Addison Group, commented: "We are honored to be named on 'Chicago's Largest Privately Held Companies' by Crain's Business. This recognition is a nod to the hard work and dedication of our employees and the positive guidance of our collective leadership. At Addison, we champion betterment and workplace transparency, and that ideology has helped us grow into the successful company we are today."
Addison specializes in talent and consulting solutions, with a focus on putting people first and honing strong relationships to deliver the expertise and talent that businesses need to succeed. Addison has a long history of identifying the type of executive expertise that encourages innovation and growth.
Tom Moran, CEO, Addison Group, shared his sentiments: "Addison has offices throughout the country, which allow us to invest in the surrounding communities and help local job markets thrive. Since our headquarters is rooted in the heart of downtown Chicago, it's an honor to be recognized for our contributions and impact on our home base."
About Addison Group
Addison Group, an award-winning talent solutions and consulting company in the U.S., provides industry-leading expertise with a national reach and a localized touch. Addison offers a full suite of consulting and recruiting capabilities across multiple sectors, including information technology, finance and accounting, non-clinical healthcare, human resources, administrative, and digital marketing. Addison Group has been repeatedly recognized by the media as one of the fastest-growing private companies in the United States by Forbes' Top 200 America's Best Professional and Specialist Search Firms, Forbes' America's Best Recruiters and Executive Search Firms, America's Best Temporary Staffing Firms, SIA Top 100 Staffing Bold Leaders, and Inc. Best 100 Places to Work. Addison Group subsidiaries include Mondo, AIM Consulting, DLC, Bridgepoint Consulting, Harmony Healthcare, Kranz Consulting, and ArcLight Consulting.
Source: Addison Group