Adam Civalier Provides the Canvas for New York's Local Rochester Graffiti Artists
In a time where street art is both loved and loathed in equal measure by different walks of society, one New York-based real estate investor has hit upon an opportunity which is making waves in the local street art world.
Press Release
-
updated: Jul 16, 2018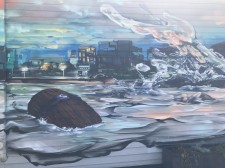 ROCHESTER, N.Y., July 16, 2018 (Newswire.com) - As a street art fan himself, Rochester restaurateur and commercial real estate investor Adam Civalier has found himself in a highly enviable position among aficionados of the art style.
"In my short career as a commercial real estate investor, I focus primarily on industrial commercial spaces and properties in and around Rochester and occasionally further afield," explains Civalier.
"I'm personally a huge fan of street art and graffiti, and it struck me how many of these buildings were the perfect canvas. Accordingly, I reached out to a number of my favorite artists with a proposition," he adds.
As a result, and alongside prominent New York street artists such as Thievin' Stephen, Cruk and other members of the FUA Krew, Rochester-based Adam Civalier has now seen a number of his buildings adorned with the work of these critically acclaimed but often mysterious individuals.
"Cruk, from the FUA Krew, has completed some incredible work on, in and around several of my Upstate New York properties," explains the commercial real estate investor. "Some of the most recent work, completed on a property in Rochester close to my home, is breathtaking to me as a graffiti art fan."
All completed entirely legally, with Civalier's obvious blessing, and subsequently showcased on social media, the work of Cruk and Thievin' Stephen alone has attracted thousands of likes on websites such as Instagram and Facebook.
"It's about celebrating over 20 years of dedication to the visual element of hip-hop that we call graffiti," explains the FUA Krew Facebook page.
Meanwhile, Thievin' Stephen, whose art is heavily influenced by architecture and the natural world, explains that he's largely "bummed out" by Rochester's tendency to demolish classic architecture, before going on to highlight the benefits of partnering with commercial real estate investor Adam Civalier.
Of the partnership, Civalier himself adds, "It has proven to be a great bit of initiative in my opinion. It's showcasing great artwork, it's showcasing the commercial spaces and best of all, it's all done to the letter of the law."
Despite objection by some to the art style, Civalier disagrees entirely. "Thievin' Stephen, for example, creates intricate and layered visions of society, pulled from what he calls 'the remnants left behind' by those who came before us. I think it's brilliant."
So, what's next for Adam Civalier and his street art acquaintances?
"I have a few more blank canvases around the city waiting to be adorned by the street art world's best and brightest," he suggests, wrapping up. "What's more, there are several other properties in the pipeline due to be looked at, so there's definitely space for more great work by more great street artists going forward. I'm excited for what's to come."
To connect with Adam Civalier, find him on Linkedin.
Media Contact:
Web Presence LLC
Eric Blankenship
786-332-6554
Source: Web Presence LLC
Share:
---
Categories: Community Standards
Tags: Adam Civalier, Adam Civalier NY, Adam Civalier Rochester
---