AcuityTec Unveils Brand Revamp and New Website to Support Its Global KYC, KYB, Compliance and Fraud Defence Solutions
Press Release
•
May 30, 2023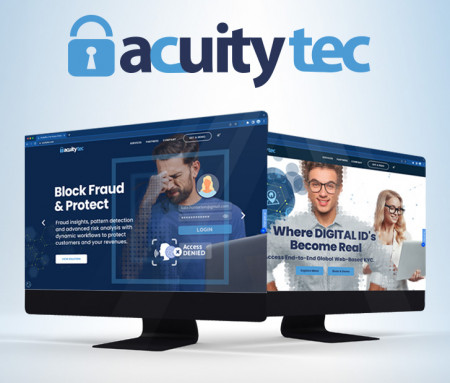 MONTREAL, May 30, 2023 (Newswire.com) - Acuitytec, a leading provider of global KYC, KYB, KYT, compliance, and multi-layered fraud prevention solutions, is thrilled to announce a significant visual branding revamp and the launch of its new website.
The revolutionized brand, messaging and graphic style underscore AcuityTec's commitment to providing cutting-edge technology and innovative fraud defence to businesses worldwide. Multi-layered and automated verifications to secure customers and their transactions is more imperative than ever. In 2022, global cyber-attacks increased by 38% and account takeovers increased by 131% - sophisticated fraudsters are not slowing down. With over 10 years of industry expertise, AcuityTec brings clarity, confidence and trust in one platform for businesses to safeguard and stay agile in the ecosystem.
The brand revamp marks an exciting milestone for AcuityTec, reinforcing its position as an innovative global leader and aligning perfectly with AcuityTec's trust, security, and innovation core values with contemporary, eye-catching, and sleek designs. The new visual representations of the brand reflect the company's growth, maturity, and dedication to providing unparalleled client services.
Alongside the visual brand style update, AcuityTec is thrilled to announce the launch of its new website to showcase its comprehensive platform.
Key features include:
Intuitive User Experience: A meticulous design offers a user-friendly and intuitive experience. Visitors can easily navigate and access the information they need quickly and efficiently.
Enhanced Product Descriptions: AcuityTec's range of data and fraud mitigation solutions are described in detail, providing businesses with a detailed understanding of the features and benefits of each service.
Multi-Lingual: Recognizing the diverse global audience and the importance of seamless communication, the website provides content in English, Spanish, and Portuguese with other multi-lingual support.
Easy Book Demo: Visitors can book a demo experience firsthand and how AcuityTec's advanced KYC, KYB, and compliance solutions can address their unique business requirements.
News Center: The new website included a library of articles where visitors can access informative industry insights into the evolving landscape of KYC, fraud prevention and compliance.
Commenting on the brand revamp and website launch, Eric Gounder, Director Business Developments of AcuityTec, said, "We are thrilled to unveil our refreshed brand representation and launch our new website. This marks an important step forward in our journey to provide next-generation technology for advanced KYC and fraud defence worldwide. With our revamped brand and enhanced online presence, we are better positioned than ever to meet the evolving needs of our clients and help them navigate the complex landscape of KYC, compliance and fraud prevention."
About AcuityTec
AcuityTec is a leading provider specializing in global KYC, KYB, compliance and advanced fraud defence through a single API. With a commitment to trust, security, and innovation, AcuityTec empowers businesses worldwide to welcome more users and process more transactions safely and securely; with trust and confidence, risk and fraud exposure is managed.
For more information, visit www.acuitytec.com or contact sales@acuitytec.com.
For media inquiries, contact marketing@acuitytec.com.
Source: AcuityTec