Actresses Dawna Lee Heising and Vida Ghaffari Team Up on Eye on Entertainment
Press Release
•
updated: May 20, 2016
Noted actress Dawna Lee Heising just started collaborating with celebrated actress and journalist Vida Ghaffari on Eye On Entertainment, which is broadcast on Time Warner Cable. This dynamic duo bring a lot of different skill sets to the table.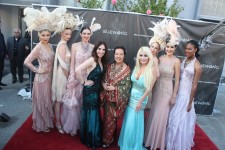 Los Angeles, CA, May 20, 2016 (Newswire.com) - ​​​​​Noted actress Dawna Lee Heising just started collaborating with celebrated actress and journalist Vida Ghaffari on Eye On Entertainment, which is broadcast on Time Warner Cable. This dynamic duo bring a lot of different skill sets to the table having varied backgrounds in entertainment and fashion. In fact, their first two episodes working together chronicled the birthday party of renowned international fashion designer Sue Wong as well as an FGI (Fashion Guild International) honoring Wong's outstanding career. Both events were also fashion installations of Wong's exquisite designs.
Dawna is a working actress, member of SAG-AFTRA, and is the Vice President of Publicity for Aki Aleong's Mustard Seed Media Group. She is studying the Uta Hagen method of acting at South Coast Repertory, and the Strasberg method with Michael Sewell. Her films include: "Samurai Cop 2: Deadly Vengeance" from Gregory Hatanaka; "Ten Violent Women: Part Two" and "Paranormal Extremes: Text Messages from the Dead" from Ted V. Mikels; "Blood & Iron" from Thomas J. Churchill; "Circus of Dread" and "Pond Scum" from Mark Savage; "The Final Chance" from Aki Aleong; "Ride the Wanted Trail" from Rick Groat; "Slink" and "After School Massacre" from Jared Masters; "Garden Party Massacre" and "Deadly Revisions" from Gregory Blair; "Jezebeth 3: Guns of El Diablo" from Damien Dante; and many others.
"Dawna is someone I really value and admire. Not only is she stunning, but she is also so smart and is a great improviser. She is a great actress as well, who excels at everything she does, so I'm thrilled to work with her on-camera for Eye on Entertainment as well as to be cast with her in some wonderful upcoming films,"

Vida Ghaffari, Award-winning Actress, Voice Over Artist, and On-Camera Host
Dawna belonged to Sal Romeo's Friends and Artists Theatre Group in Los Angeles for many years, and has appeared in numerous film, TV and theatre productions. She has trained with acting teachers Sal Romeo; Mark Majarian; Guy Stockwell; Tim Russ; Richard Hatch; and at Tepper-Gallegos and U.C. Berkeley. Dawna won a 2013 EOTM Award for Outstanding Television Talk Show Host for "Eye on Entertainment", and won Best Actress for her role as Naomi Perkins in "After School Massacre" at the 2014 Mockfest Film Festival.
Dawna has an A.A. in Theatre Arts from Fullerton College, and has a B.S. in Business Management and MBA from Pepperdine University. She is the CEO of Eye on Excellence [TM] Productions. Her uncle is legendary Director of Photography Tak Fujimoto. Her cousins David Wong and George Daugherty won an Emmy Award for "Peter and the Wolf on Broadway".
Dawna won Ms. U.S. World 2007; Ms. World 2008; Ms. Universe 2009; Mrs. California United States 2000; Mrs. American Achievement 2001; and Miss Galactic Film Festival 2014. In addition, she is a former Miss Los Angeles Chinatown; Miss Orange County Universe: Miss San Francisco Universe; and Miss California Hemisphere, among other titles. She has worked as a swimsuit model for Ujena; Venus Swimwear; and Catalina. She is trained in ballet and jazz dancing, Tae Kwon Do, kick boxing and pole dancing.
Vida has been active on the Tinsel town scene as an award-winning actress, voice over artist and fashion blogger. This comedic powerhouse landed a great co-starring role in Mindy Kaling's humorous and much buzzed about show "The Mindy Project." She has also starred in Comedy Central's "Mind of Mencia".
These projects cap off a number of successes for the versatile starlet. She will soon be shooting a supporting role in multi award-winning filmmaker Gregory Hatanaka's "Darling Nikki" alongside James Duval ("Independence Day,"Donnie Darko"), Kristine DeBell ("Meatballs"), Mel Novak (Bruce Lee's "Game of Death,""Black Belt Jones") and actor/director Thomas J. Churchill ("Checkpoint," "Lazarus: Day of the Living Dead"). She will also star in two films directed by Churchill as well as "Copperhead Creek" opposite James Van Patten (of "Saw" fame), which is a western by Rick Groat. Vida will be acting with Dawna in a number of these films as well.
Vida recently voiced a couple of roles in an animated film "Lovesick Fool" for Dominic Polcino, who is an Emmy-nominated director of "The Simpsons,""Family Guy," and "King of the Hill." This film screened at the popular Hollyshorts Film Festival at the Chinese Theatre, Burbank International Film Festival and countless other festivals. "Lovesick Fool" is quite the film festival darling, having won first place at the prestigious Topanga Film Festival, the LA Art house Film Festival and the Atlanta Underground Film Festival.
As an award-winning journalist and blogger for her self-titled fashion and beauty blog, http://www.soveryvida.com, Vida has also worked as a red carpet correspondent and has interviewed many celebrities ranging from Oscar nominees and winners to Grammy winners. Vida recently received commendations from the City of Los Angeles and the West Los Angeles Chamber of Commerce for her journalism and acting endeavors as well as an Entrepreneur Award from the World Networks and a Media Appreciation Award. She has won journalism and research grants from the National Journalism Center, The Woodrow Wilson Center, and the US Institute of Peace. Vida got her start in fashion journalism covering the retail beat for the Dow Jones Newswire.
"Vida Ghaffari is a beautiful and talented actress, as well as a highly educated journalist with excellent credentials. We at Eye on Entertainment are excited and honored to welcome her as a member of our team! Vida is a force of nature, and I am so happy to belong to the Williamson Management group alongside her. We will be also working on a lot of great films together," said Heising.
Ever the fashionista, Vida recently graced the cover of noted fashion magazine FVM Global Magazine twice, Shine on Hollywood Magazine and was quoted about her knowledge of red carpet fashion for the Oscars by US News and World Report. She was also recently featured amongst some esteemed comics in the upcoming satirical book "We Don't Think You're Racist!" by Devastator Press.
Dawna and Vida are both represented by Joe Williamson of Williamson Management Company.
More info about Eye on Entertainment at http://www.eyeonexcellence.tv/ More info on Dawna at https://www.facebook.com/dawnaleeheising.actress and http://www.imdb.com/name/nm3148014/?ref_=nv_sr_1 More info about Vida at http://www.soveryvida.com and http://www.imdb.me/vidaghaffari
###
Source: The Williamson Management
Related Media
Tags
Additional Links