ActivTrak Delivers On-Prem Solution to Offer More Security to Enterprise Clients
ActivTrak debuts on-premises deployment option offering more control and security for enterprise customers
Press Release
-
updated: May 17, 2017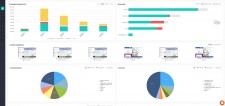 DALLAS, Texas, May 17, 2017 (Newswire.com) - Birch Grove Software, Inc has announced today that the company has developed an on-premises version of their flagship product ActivTrak, a cloud-based user behavior analytics solution for enterprise organizations. 
The new on-premises product is now publicly available to all interested clients. It employs much of the same features, flexibility and functionality as the cloud-based version, but offers more control over security, hardware and data management to meet enterprise customer needs and expectations. 
"As a full-service financial services co-operative, security and safe-guarding of our member data is paramount. The On-Premises solution from ActivTrak allowed us to keep our data on-site, fully secured and accessible. Further, working with the professionals at ActivTrak made the installation painless. It was only a few hours' work, and integrated with our existing private cloud perfectly," said Jeff Anderson, VP, IT, Integris Credit Union.
Current implementations require virtually no setup time once hardware requirements are met. 
This news comes after recent expansions from the company, as their team has more than doubled over the last 12 months. Additions to ActivTrak's development, marketing and support teams have been made to ensure users continue to receive a top-tier product and support with an ever-growing feature set. 
"Delivering the on-premise installation of ActivTrak is an exciting time for our company. Now we are able to offer the service to some enterprise sized customers who for one reason or another are unable to store their data in the cloud. It's the same great feature set on the cloud or off," said Herbert Axilrod, President, Birch Grove Software. 
Recent product additions have been focused on delivering more control and insight faster to meet the demands of a growing number of enterprise clients. ActivTrak has improved data density and deliverability across the platform, created a new report that visualizes how users move through individual tools, and improved administrator control over reporting and activity configuration. 
Now, with ActivTrak's new on-premises deployment, the company offers complete control over data security. 
ABOUT ACTIVTRAK: 
ActivTrak is a comprehensive cloud-based analytics service that allows businesses to gain insights on and improve employee productivity. As a freemium service easily installed on an employee's desktop to measure activity, the ActivTrak platform provides valuable aggregate data on a company's day-by-day performance, with information displayed on an easy-to-manage dashboard. The company's software is easy to install and data transfer is encrypted, ensuring protection and security.
MEDIA CONTACT:
Ramiz Khan
Performance Marketer & Analyst
Email: Rkhan@ActivTrak.com
Phone: 214-499-4719
###
Source: ActivTrak
---
Categories: Business Technology, Healthcare, Banking, Finance, Insurance, Business to Business, Business Intelligence, Saas (Software as Service), Productivity Applications
Tags: ActivTrak, B2B, BI, BI tools, business intelligence, business software, employee monitoring, employee monitoring software, enterprise software, on-premises software, SaaS, Software as a Service
---