Active in the Communities: Lazar Finker and Finker-Frenkel Legacy Foundation Donate to Children's Home
Lazar Finker and Raissa Frenkel Continue to Support the Cause of Child Welfare
Press Release
-
updated: Nov 9, 2017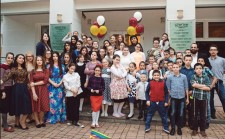 Jacksonville, FLORIDA, November 9, 2017 (Newswire.com) - The Finker-Frenkel Legacy Foundation, through their long-standing partnership with the Solomon Business Club, was recently responsible for a series of renovations undertaken by the orphanage Children of the Future.
Children of the Future began these changes in June, focused on repairing damaged facilities and ensuring that the home's residents would have a safe and friendly environment to return to at the start of the next school year. Some of the repairs made include mending broken ceilings, fixing cracks in the walls, and ridding the buildings of mold. In addition, new furniture was installed for the benefit of the children living in the home.
"The children are looking forward to returning to their rooms, waiting for a meeting with friends and mentors," said a representative from Solomon in July.
With the assistance of the Foundation, Children of the Future was also able to host celebrations for Knowledge Day and Rosh Hashanah. Knowledge Day, a national holiday in Russia, occurs on September 1st and is intended to usher in the new school year. The holiday comes with special festivities for first graders as they begin their educational journeys. It is celebrated by picking flowers, reading poetry, and welcoming new students. Traditionally, older students will accompany younger ones to class, providing them with support on what can be a nerve-wracking day.
Rosh Hashanah is the Jewish New Year, a time of reflection for the year to come. At Children of the Future, the celebration was also a time of learning, with classes in dance, voice, and home economics provided to its residents with the help of the Foundation.
The Finker-Frenkel Legacy Foundation, founded by Lazar Finker and his wife, Raissa Frenkel and based in Jacksonville, is a nonprofit organization dedicated to the cause of assembling a community of like-minded entrepreneurs. Some of the causes that the Foundation supports include medical research, education, religious development, and child welfare.
Their continued partnership with Solomon has led to them donating to multiple Jewish orphanages in Russia, ensuring that disadvantaged children will not only receive a safe and comprehensive education but recover from past trauma and lead happy lives.
Outside of their charitable endeavors, Lazar Finker and Raissa Frenkel spend their time traveling and with family. The couple has also founded Forum Capital Group, a private equity firm specializing in seafood and real estate. They live in Jacksonville. 
Source: Finker-Frenkel Legacy Foundation
---
Categories: Non Profit, Philanthropy, Charitable Contributions
Tags: charity, child welfare, Finker Frenkel Legacy Foundation, Jacksonville, Lazar Finker, nonprofit, Philanthropy, Raissa Frenkel
---