Action1 Releases Patch Management Application
Action1 Corporation Releases Patch Management Application To Help Companies Secure Their Endpoints
Press Release
-
updated: Nov 15, 2018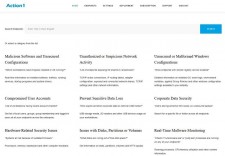 HOUSTON, November 15, 2018 (Newswire.com) - Action1 Corporation, a Cloud-based security management solution provider, today announced the release of Action1 Patch Management application.
Patch management (or hotfix management) is the process of planning what patches should be applied to which systems at a specified time and automating the patch deployment mechanisms to install patches and hotfixes on target systems.
Action1 Patch Management application can install patches and hotfixes on multiple computers and streamline software update deployment.  Action1 Patch Management application performs real-time discovery of all installed Windows updates and patches on all corporate workstations and provides security patch management capabilities, such as an option to deploy security patches on selected systems, install Windows updates and more.
Action1 gives you full real-time visibility into what patches and updates are installed on what endpoints, which security patches for Windows are missing and allows to deploy missing patches remotely from the Cloud. These extensive security patch management software capabilities allow you to immediately assess the risks and secure all of your endpoints.
"We live in the modern reality of ever-increasing threats to cybersecurity and growing levels of cyberterrorism." said Maurice Torres, VP of Product Strategy at Action1 Corporation. "Quickly disappearing concept of old-day perimeter security, diminished by worldwide adoption of Cloud technologies, inspired the team of Action1 cybersecurity engineers to rethink the traditional approaches to endpoint patch management."
The new Action1 Patch Management application is available immediately for free (certain limitations apply) at https://www.action1.com/patch-management.html. Per-endpoint pricing is available, visit www.action1.com for more details.
About Action1 Corporation
Action1 combines scalability and ease of use in its approach to endpoint security. Action1's vision is to arm organizations around the world with effective means to assess security and enforce compliance of their endpoints, accomplishing security and compliance goals without sacrificing user productivity and easily scaling their cybersecurity efforts as organization grows. For more information, please visit www.action1.com or call 1-346-444-8530
Media Contact:
Peter Barnett
Action1 Corporation
Phone: 346-444-8530
 
Source: Action1 Corporation
Share:
---
Categories: IT Security, IT Management
Tags: automated patch management, free patch management, hotfix management, install hotfix, Install patch, install patches remotely, patch deployment software, patch management, patch tool, software update deployment, what is patch management?, windows patch management
---