ACT® English Scores Soar for Seven Mississippi High Schools Study Shows
Press Release
•
updated: Jun 4, 2019
English ACT scores show marked improvement at individual school and global analysis levels, with more than 57 percent of students with prior scores showing an average +3.15 point gain.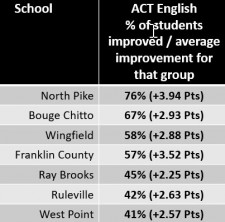 BROOKHAVEN, Miss., June 4, 2019 (Newswire.com) - ​​​​​Jumpstart Test Prep today released the English ACT results from seven Mississippi high schools that completed an English review for nearly 800 juniors who prepared for the state administered February 2019 ACT® exam (American College Testing). Following completion of Jumpstart's ACT English prep review, more than 57 percent of the students had an average ACT English score improvement of +3.15 points over their best prior attempt. North Pike High School led the group with more than 75 percent of its students improving their English scores by an average of +3.94 points.
"My students did very well with the program, and I feel that the review was a good supplement for what we are doing in the classroom," said Scott Hallmark, Principal at North Pike High School. "We met with the teachers to ensure the proper implementation of the program, and it was used immediately before our juniors tested on the ACT in February. It was imbedded within our class day, short modules that could be done in the class. It's a good program, and I am very pleased with its results, and I would like to continue using it."
Student feedback on the program is strong. Camryn White, a junior student at Bogue Chitto High School improved +7.00 points (24 to 31) in English after completing the Jumpstart Test Prep ACT English review. "The (Jumpstart) review helped me review things we hadn't learned in years, so it helped me remember things like grammar skills," White said.
Individual school results of percentages of students who improved and the average improvement for these groups are provided in the table below:
"Mississippi ranked 49th in average composite score in 2018. Only 47 percent of the 2018 graduating class met the English benchmark of college and career readiness. I estimate a one point ACT composite improvement would move Mississippi to around 40th while a two point improvement would have us performing better than half the nation," said Sha Walker, Co-Founder and CEO of Jumpstart Test Prep. "In order to be fully prepared, students need a complete review of the content they will see on the ACT®, along with all the tips, test-taking strategies and realistic question practice that we provide."
Jumpstart Test Prep's unique preparation approach helps students of all ability levels stay fully engaged and gain the most improvement in the shortest time by explaining difficult content in a way that every student can follow and understand. The program is based on over 56 years of teaching and tutoring work by legendary educator Dot McClendon.
"I am thrilled by the success of these Mississippi High School students," said McClendon. "Helping to open the door to higher learning and opportunity for students feels very rewarding because we know they were coached the right way."
Walker and McClendon cite the top three competitive distinctions of Jumpstart Test Prep:
1. Proven exam prep expertise honed over a lifetime of successful results. The content review is delivered on-demand. It is highly visual, highly animated, and students respond to the ACT® style practice questions.
2. Engaging, not boring! Presented by a group of fun, young, diverse people, and presented in short 30-minute segments. Students must actively engage as they follow along in their workbook to complete the blanks and work ACT® style practice problems as the online review progresses.
3. Improved time management. Jumpstart Test Prep reviews content step-by-step, then shows how to apply that content with follow-up examples. We follow with challenge questions allowing a clock timer countdown. Time is critical on the ACT® and by the end of our review, Jumpstart Test Prep students know the average amount of time they can allocate per question and what to do when too much time has lapsed.
School Student English Score Improvement Rates: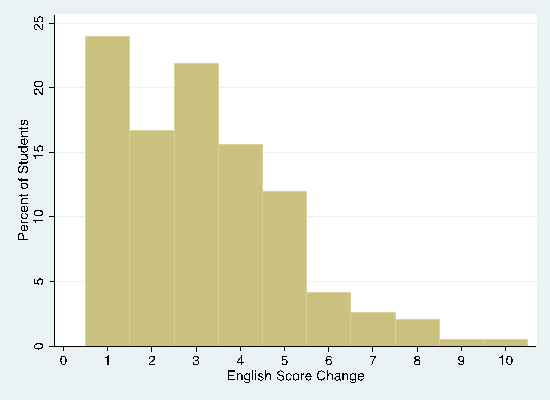 All juniors in each school site had access to the following resources:
· Expert content review and practice, along with test taking tips and strategies delivered in the classroom via streaming video
· Online, on-demand, five-hour review (eight modules, approximately 35 minutes each) of English content tested by the ACT® that could be led from the classroom or used individually by students through May 2019
· Consumable student workbooks (146 pages) to be completed as lecture content is watched and later used as a student study guide
· On-demand support
School Administrators utilized an online dashboard reflecting the video module completion progress of teachers assigned to proctor the review and/or individual student progress.
About the ACT® Exam
The ACT® was first introduced in 1959 by Everett Franklin Lindquist, a University of Iowa professor as an alternative to the Scholastic Aptitude Test (SAT®). The test, in its current form, is administered by ACT®…a nonprofit of the same name. The ACT has seen a gradual increase in the number of test takers since its inception, and in 2011 the ACT® surpassed the SAT® for the first time in total test takers; that year, 1,666,017 students took the ACT® and 1,664,479 students took the SAT®.
About Jumpstart Test Prep
Jumpstart Test Prep (www.jumpstarttestprep.com) is a leading provider of test preparation services for individuals and schools. Established in 2015, Jumpstart's streaming video modules are delivered on-demand and are designed for classroom integration or individual study. Jumpstart's methodology is proven to help students of all ability levels stay fully engaged and gain the most score improvement in the shortest time by explaining difficult content in a way that every student can follow and understand. Each module reviews the must-know content, and includes testing strategies specific to the exam, and concludes with realistic question practice.
Jumpstart Test Prep currently provides exam preparation for the ACT®, GED®, HiSet®, TASC®, Praxis® Core and ACT WorkKeys®.
For more information on Jumpstart Test Prep, please visit: https://www.jumpstarttestprep.com/ and visit them on Facebook at: https://www.facebook.com/pg/jumpstarttestprep/reviews/
ACT® and ACT WorkKeys® are registered trademarks of ACT, Inc.
GED® is a registered trademark of American Council on Education Corp.
HiSet® and Praxis® are registered trademarks of Educational Testing Service
TASC® Test Assessing Secondary Completion is the registered trademark of Data Recognition Corp.
Jumpstart Test Prep is not affiliated with or endorsed by any of these companies.
Media Contact:
Robert Cadogan
Email: info@jumpstarttestprep.com
Phone: 833-835-8329
###
Source: Jumpstart Test Prep
Related Media
Tags