ACOPower Launches TesFridge, the World's First Portable Freezer for Tesla Sub Trunk
Press Release
•
Jun 20, 2023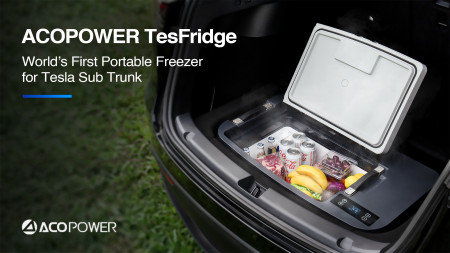 LOS ANGELES, June 20, 2023 (Newswire.com) - ACOPower, a leading provider of innovative energy solutions, is thrilled to announce the launch of the ACOPower TesFridge, the world's first portable freezer designed specifically to fit into the sub trunks of Tesla Model Y, Model 3, and Model X. This groundbreaking product revolutionizes on-the-go cooling and storage, offering Tesla owners a convenient and efficient solution. ACOPower TesFridge is available now on Kickstarter: https://www.kickstarter.com/projects/251809532/worlds-first-portable-freezer-for-tesla-sub-trunk.
Traditional car trunks often pose challenges when it comes to storing groceries or beverages. That's why ACOPower developed the TesFridge, providing a perfect fit for Tesla Model Y, Model 3 and Model X sub trunks and offering a clean and organized solution. With TesFridge, users can easily store and organize their items without the worry of them getting warm or wet during their journeys.
One of the key features that sets TesFridge apart is its ability to maximize trunk utilization. With its customized design, TesFridge ensures efficient use of space, allowing Tesla owners to make the most of their trunk area. Available in 20L, 35L, and 36L capacities for Model 3, Model Y and Model X, respectively, TesFridge provides practical storage and efficient cooling, catering to a wide range of needs.
Equipped with a high-quality cooling compressor, TesFridge delivers impressive performance. It takes just 30 minutes for food and drinks to cool down from 50°F to a freezing -4°F, ensuring that users' items retain their freshness and taste. With TesFridge, users can enjoy chilled drinks and fresh food without compromise.
TesFridge features a hollow design that effectively dissipates heat, ensuring optimal temperature regulation. This innovative design keeps the fridge at the ideal temperature for storing food and beverages, maintaining their quality for longer periods.
Controlling TesFridge is effortless thanks to its smart app control. By connecting via Bluetooth, users can monitor and adjust the temperature on their smartphones. The wireless control feature enhances convenience and ease of use, providing a seamless user experience.
In addition to Tesla charging, TesFridge supports multiple charging methods, offering versatility to users. It can be powered by portable power stations and batteries, expanding its usability beyond Tesla charging. It is important to note that alternative charging methods are compatible only when their voltage requirements fall within the range of DC 12/24V AC 100-240VAC.
"We understand the challenges faced by Tesla owners when it comes to cooling and storing items in their car trunks. With TesFridge, we aimed to provide a solution that is efficient, practical, and tailored to their specific needs," said Jeffrey Tang, CEO at ACOPower. "We are excited to introduce the world's first portable freezer for Tesla sub trunks, offering Tesla owners a convenient and reliable way to store and cool their items while on the go."
Experience the convenience and efficiency of ACOPower TesFridge today. To learn more about this revolutionary product and take advantage of special pricing and incentives for early adopters, visit the Kickstarter campaign here: https://www.kickstarter.com/projects/251809532/worlds-first-portable-freezer-for-tesla-sub-trunk.
Source: ACOPower
Tags