#ACNnextgen Training, IDSeal Launch Highlight Charlotte International Convention
Press Release
•
updated: Apr 9, 2019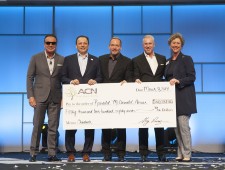 CONCORD, N.C., April 9, 2019 (Newswire.com) - ACN Inc., a global leader in direct sales, held its Charlotte International Convention on March 29-31 in the Spectrum Center. Thousands of Independent Business Owners (IBOs) and prospects attended three days of promotions and training from the company's co-founders, top performers and partners.
The Charlotte convention, held near the company's world headquarters in Concord, features annual recognition and awards presentations. This year, ACN opened its first quarterly training event of 2019 with an emphasis on #ACNnextgen initiatives and a new identity-theft protection service called IDSeal.
"Any one of several significant announcements during this weekend could have carried a business on its own," ACN President and Co-Founder Greg Provenzano said. "A streamlined process and incredible new services make this an exceptional time to be part of this company. We saw tangible evidence of that throughout the weekend."
Entrepreneurs from across the nation and around the world received training on specific services from experts within the company. Most were tied to #ACNnextgen, an initiative highlighting ACN's forward-thinking and progressive mindset. The weekend included memorable promotions and the debut of the latest essential service product ACN offers: IDSeal.
IDSeal protects consumers' identity with a suite of tools that protects vital personal data, dark-web transactions of phone numbers and email addresses, social media monitoring and more. The product rollout received rave reviews, as IBOs learned how to incorporate a product for a burgeoning need among customers.
"There's potential we've not seen in this company since the inception 26 years ago," Provenzano said. "IDSeal is a catalyst. The need for identity protection can't be ignored and doesn't fit a niche market. It's an essential service in every sense."
ACN also continued its tradition of collecting donations from convention attendees for the local Ronald McDonald House. ACN matched contributions from employees, IBOs and guests and presented a check on Sunday to Ronald McDonald House of Charlotte for $40,287.80.
The donation will help the Charlotte chapter provide low-cost or free accommodations for families as their children are treated at local hospitals.
ACN's next International Training Event will be June 21-23 in San Jose, California.
About ACN. Inc.
Founded in 1993, ACN is the world's largest direct seller of telecommunications, energy and other essential services for residential and business customers. ACN provides the services people need and use every day, including phone service, wireless, energy, merchant services, television, security and automation and high-speed internet. ACN operates in 26 countries, with offices in North America, Latin America, Columbia, Europe, Asia and the Pacific. For information on ACN's home-based business opportunity, visit acn.com.
About Ronald McDonald House Charlotte
Our mission: To provide a safe, affordable "home-away-from-home" for families of children receiving treatment in Charlotte-area medical facilities. Families are stronger when they are together, and this is never more important than when a child is sick or injured. During this uncertain time, the presence of a familiar face eases the strain of medical uncertainty.
The Ronald McDonald House is known as The House that Love Built®. When we first meet our guests, they are struggling through dark times. We support them physically and emotionally, enabling them to stand strong for their children. When we bid them farewell, they feel surrounded by love.
Source: ACN
Additional Links