AchieveNEXT Releases 7th Annual Mid-Market Executive Compensation and Culture Study
Study reveals a majority of enterprises have adjusted base salary and incentive compensation plans in response to COVID-19
Press Release
-
updated: Sep 24, 2020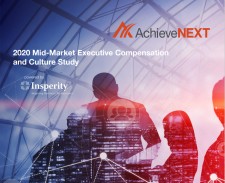 PHILADELPHIA, September 24, 2020 (Newswire.com) - AchieveNEXT, a leading provider of Peer Advisory Networks and Solutions for emerging and mid-market leaders, their teams and enterprises, has released its 2020 Mid-Market Executive Compensation and Culture Study.
The 7th annual study, which surveyed a cross-section of U.S.-based emerging and mid-market CFOs and CHROs, was conducted in partnership with Insperity, a leading provider of human resources (HR) and business performance solutions. 
Key findings of the study include: 
Fifty-three percent of those surveyed have adjusted base salary due to COVID-19, and 40 percent have restructured incentive compensation plans. 

COVID-19 has had a material impact on revenue performance, with 48 percent of participants reporting negative growth and 83 percent of those specifically identifying the pandemic as cause for revenue shortages. 

Overall, pre-COVID-19 salary adjustments were normal for 2019 to 2020 with a majority of enterprises not increasing C-Suite salaries due to pandemic-related concerns. 

For those enterprises offering short-term incentive compensation for executives, bonuses were tied to overall enterprise performance and individual job performance. 

Most enterprises continue to use traditional talent acquisition channels, including Indeed.com and LinkedIn, though there has been a noticeable increase in Employee Referral Programs, signaling greater emphasis on employee experience and enterprise culture.

Only 20 percent of companies have seen a reduction in employee engagement due to COVID-19 and the move to a more virtual workforce.

Talent acquisition and development rank as top concerns for leaders as they begin to plan for a projected rebound and recovery.
"While practically every enterprise has been impacted by the COVID-19 pandemic, most finance and HR leaders remain optimistic about the path ahead," said AchieveNEXT CEO Nick Araco. "Temporary compensation adjustments have helped companies navigate through the turbulence, while a renewed focus on agile, transparent leadership has raised the bar on the employee experience." 
Insperity Executive Vice President Sales and Marketing Jay Mincks said, "Insperity sees tremendous value in AchieveNEXT and this survey is yet another example of how they provide their membership with powerful tools. We look forward to our continued partnership as they lead the way in offering useful data-driven insights."
View and download the full report here.
 ###
About AchieveNEXT
AchieveNEXT empowers individuals, teams and enterprises to meet or exceed ambitious growth goals through the powerful combination of peer-to-peer learning and leading-edge human capital and strategic solutions.​ Learn more at www.achievenext.com.
About Insperity
Insperity®, a trusted advisor to America's best businesses for more than 34 years, provides an array of human resources and business solutions designed to help improve business performance. Offering the most comprehensive suite of products and services available in the marketplace, Insperity delivers administrative relief, better benefits, reduced liabilities and a systematic way to improve productivity through its premier Workforce Optimization® solution. For more information, visit http://www.insperity.com.
Source: AchieveNEXT
Share:
---
Categories: Business News
Tags: AchieveNEXT, business news, Compensation, COVID-19, Finance, HR, Insperity, Mid-Market, U.S. Economy
---