Accu-Time Systems Releases Proprietary Facial Recognition System
Press Release
•
Feb 14, 2023
The ATS stride80 time clock can now include Only|You™ Face facial recognition technology.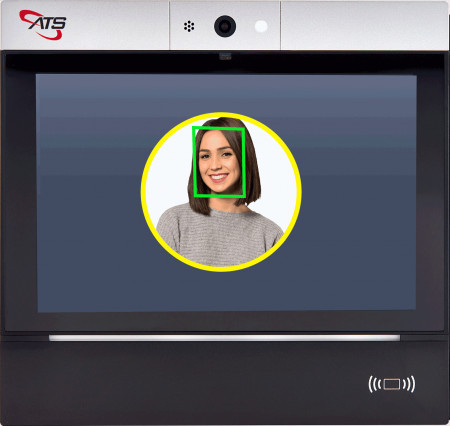 WINDSOR, Conn., February 14, 2023 (Newswire.com) - Accu-Time Systems, Inc. (ATS), a leading manufacturer of employee time clocks, has officially announced the launch of Only|You™ Face, a proprietary facial recognition system. Only|You Face can be used with ATS' stride®80 time clock using TimeCollect™, ATS' proprietary Android time collection application. It can also easily integrate with a value-added reseller's existing Android-based time collection application.
The stride80 is a durable and easy-to-use Android-based employee time clock that can be customized to the branding & business needs of a wide variety of workforce management technologies. Built to ignite growth, the device features an 8-inch multi-touch color screen, 8 Megapixel camera, LED light bar indicator, and presence sensor, enabling increased privacy, security, and energy efficiency.
Only|You Face provides a more hygienic alternative to fingerprint readers or keypads. The system leverages IDassist, a user-friendly graphical interface that guides employees in proper positioning to help provide safe, secure, and touchless timekeeping workflows.
ATS delivers comprehensive SDK and API documentation to reduce integration time between existing time collection applications and the Only|You facial recognition system. In addition to its ability to deliver fast facial recognition results with a low failure rate, Only|You Face intelligently adapts user templates through sustained use for improved user experience. Paired with ATS' ongoing FRS support services and secure remote software updates, the system always remains safe and secure. Only|You Face doesn't store user images and operates fully encrypted.
"We know our resellers have been wanting to deliver facial recognition solutions to their customers for some time, and it is exciting to be able to offer Only|You Face as an option on our flagship stride80 platform," said Torey McCleskey, Product Manager on the Only|You product development team. "We've designed this solution to be inherently partner-friendly and think our Value-Added Reseller community will be enthusiastic about the quick time to market afforded by our plug-and-play facial recognition widget provided through the SDK."
Only|You Face simultaneously increases staff and worker safety while eliminating the complexities and costs associated with managing employee credentials.
To learn more about the stride80 time clock with Only|You facial recognition, please visit https://www.accu-time.com/ for more information.
About Accu-Time Systems, Inc.
Accu-Time Systems, Inc., an AMANO Company, builds durable and easy-to-use employee time clocks on which our reseller customers can run their workforce management software applications. Options include touch or non-touch time clocks, biometrics, proximity, and swipe card technologies. ATS also delivers TimeCom®, a cloud-based time-tracking solution capable of collecting and transmitting employee data between an ATS time clock, Workday Time Tracking, and Oracle HCM Cloud Time and Labor.
Source: Accu-Time Systems, Inc.
Tags
Related Files