Abasto Media Wins 12 José Martí Publishing Awards at the 2015 National Association of Hispanic Publishers Event
Press Release
•
Nov 5, 2015
The José Martí Publishing Awards brings together all the Hispanic newspapers and magazine publishers from the United States in an unprecedented event where the best are recognized in different publishing categories. This is the second year that Abasto Media competes, taking home 5 Gold, 3 Silver and 4 Bronze Awards.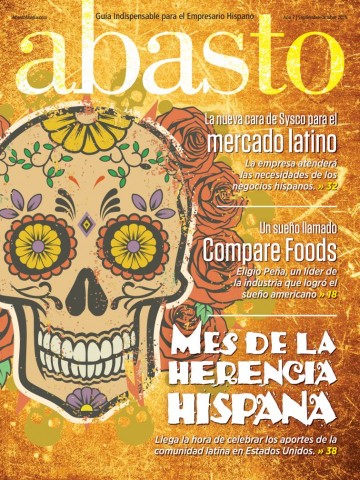 Winston-Salem, NC, November 5, 2015 (Newswire.com) - Abasto Media was presented with 12 José Martí awards for journalism, awarded by the National Association of Hispanic Publications (NAHP). The organization's 2015 Annual Convention was held in Dallas, Texas.
Abasto received five Gold Awards in different categories. The Creative Department, under the direction of Daniel Dau, was recognized with the award for Best Magazine Design, Best Web page design, Best Newsletter and Best E-Publication. In the editorial section, the publication won the award for Best Business Article "We want employers to continue to grow," written by Ivan Cruz.
Abasto Magazine brings the purchasing managers and decision makers at the supermarkets, grocery stores and distributors alike, the ability to find new products, tips and ideas to increase revenue, and the necessary technical information to make an informative decision on their daily operations. Plus since it is a trade publication, our advertisers find a superb marketing platform to communicate their message to the Hispanic retailer.

Gus Calabro, Director
In addition, Abasto received three silver awards in the following categories: Best Magazine, Best Website and Best Double Page Design.
Four bronze awards were given to Abasto in the categories of Best Business Section, Best Cover Design, Best Editorial Column (entitled "We're Still Waiting," by Iván Cruz) and, in the marketing category, Best Media Kit.
"This is recognition of all the work Abasto Media has been doing for many years. Its goal is to continue delivering accurate and timely information to our readers regarding the Hispanic food and beverage industry in the United States," said Gustavo Calabro, the publication's director. "The awards received in the various categories reflect the overall excellence of the entire Abasto team, as well as its mission to stand out as one of the most significant publications in the United States."
The NAHP, the most important Hispanic print and digital media conference in the United States, was held from October 18 – 20. It brought together more than one hundred publications, providing a forum for them to address the many challenges the industry faces today.
Abasto Media is the only print and digital publication in the U.S that caters to the Hispanic Retailer. Every print and digital issue of Abasto brings the latest news and information to the Hispanic retail market. As a trade publication Abasto continuously strives to provide the reader with the latest trends on the Hispanic food and beverage industry. Abasto's portfolio of advertisers include, Sysco, Goya Foods, Vilore, La Costeña, Minsa, Carbonell Oil, Jarritos, Verde Valle, Maseca, Tampico and many more.
Abasto Magazine is a CVC audited publication and a member of SRDS/Kantar Media
Media Contact: Gus Calabro, Abasto Media
Phone: 877-817-3674 E-mail: gcalabro@abastoonline.com
Related Media
Tags
Related Files
Additional Links