A Warm Slovak Welcome to the Volunteer Ministers Cavalcade
In their bright yellow tent, Scientology Volunteer Ministers reach out to the people of Bratislava with practical help.
Press Release
-
updated: Jul 27, 2018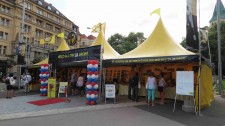 BRATISLAVA, Slovakia, July 27, 2018 (Newswire.com) - With its mission to bring unconditional help to communities throughout the continent, the European Continental Volunteer Ministers Cavalcade traveled from its headquarters in Denmark to set up its bright yellow pavilion in Bratislava this summer. Local Scientologists joined the tour to provide practical help to the people of Slovakia's capital. 
Volunteers set up their tent in Namestie SNP, Slovak National Uprising Square, named for its role, both in the city's attempt to depose the Nazi government during World War II and in the Velvet Revolution, the non-violent transition of power ending the pro-Soviet rule of the country in 1989. On a statue in the center of the square is an inscription that reads, "Only those who struggle for their freedom are worthy of it." 
Inside the tent is a display describing the scope of the Volunteer Ministers program. Although best known for their international disaster response activities, the Scientology Volunteer Ministers initiative provides practical help to people in towns and cities across the globe. Through local Scientology Churches and Missions and Continental Cavalcades and Goodwill Tours, Volunteer Ministers reach out to people with practical help to resolve problems and improve the quality of life. 
The Cavalcade offers booklets, courses, and seminars in 19 subjects — from improving relationships to accomplishing goals and purposes and from the raising of children to learning study skills to easily learn any subject. In fact, the motto of the Scientology Volunteer Minister, shown on the banner of the pavilion in Slovakian, is that no matter the problem, "Something Can Be Done About It."
One of the most popular services at the tent were Scientology assists — techniques developed by Scientology Founder L. Ron Hubbard to improve communication with the body thereby addressing the emotional and spiritual factors that can worsen or prolong unwanted aches and pains and physical conditions. After her assist, a grandmother who suffered from partial paralysis and constant pain said she hadn't felt so good in years. This was seconded by a 95-year-old woman who was surprised by how relaxed she felt, and wanted her family to learn the technique so they could help her at home.
The Volunteer Ministers program is a religious social service created in the mid- 1970s by Scientology Founder L. Ron Hubbard. Anyone of any culture or creed may train as a Volunteer Minister and use these tools to help their families and communities. The Church provides free online training on the Volunteer Ministers website.
In creating the Volunteer Ministers program, Mr. Hubbard wrote, "If one does not like the crime, cruelty, injustice, and violence of this society, he can do something about it. He can become a Volunteer Minister and help civilize it, bring it conscience and kindness and love and freedom from travail by instilling into it trust, decency, honesty, and tolerance."
Source: Scientologynews.org
---
Categories: Philanthropy
Tags: European Continental Cavalcade, Scientology Volunteer Ministers, Slovakia
---