A Super Hero's Shield Stops Crime
Press Release
•
Mar 23, 2016
The Garage Shield fights 6-second break in with 1-minute installation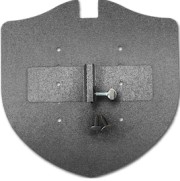 Everytown, USA, March 23, 2016 (Newswire.com) -
There's an easy way for many homeowners to stop criminals with a tool that a super-hero might wield: a shield.
The Garage Shield blocks the simple-yet-effective way that many criminals can gain access to a home, using a clothes hanger and a wedge such as a traditional door stop. Most of these break- ins occur in just 6 seconds. In fact, the trick is so easy, it's called the "6 second break-in" (#SixSecondBreakIn), and two YouTube videos demonstrating the technique have gained more than 3 million hits between them.
"The use of zip ties puts the home owner at risk and violate federal regulations and UL Code 325. The Garage Shield installs in seconds without tools and effectively blocks the 6 second break in technique."

Alex Wolfram, Inventor
While some homeowners mistakenly believe using a zip tie is an effective solution, The Garage Shield is a safer and better option. A zip tie locking the garage's emergency release mechanism can trap a child or disabled person in the garage during a fire or other emergency, especially if weakened by smoke inhalation. Plus, blocking the release mechanism violates federal regulations and UL Code 325. The Garage Shield, on the other hand, stops the coat hanger without disabling the garage's emergency release mechanism.
With more than 2 million reported break-ins per year in the United States, many home owners are unnecessary victims to a break-in that could be avoided with this $20 solution for garage security.
According to FBI statistics, the average home burglary costs the homeowner about $2,230. Worse yet, 28% of all burglaries become home invasions, with six of 10 of them elevating into rape crimes.
Another stinger: when homes are broken into with this approach, they lack any sign of forced entry. With no visible evidence of criminal activity, law enforcement may assume it was a false alarm, and insurance claims may even be rejected.
In February, 2016, a Laveen, Ariz., woman's home was cleaned out after burglars gained access through her garage door. The crime was captured on her home security video surveillance system. While she had evidence of the crime, many people wouldn't.
"Once people understand the risk, why wouldn't they want to stop easy break-ins?," says Alex Wolfram, the Garage Shield inventor and Scottsdale, Ariz., resident. "It doesn't take a super hero to stop this crime, just The Garage Shield."
"The 6-second break in is something we hear about a lot these days."
The Garage Shield installs in less than a minute and does not require the use of any tools. It is available online only at www.TheGarageShield.com (#GarageShield) for $19.95.
###
For more information, or to schedule a demonstration or shoot video of The Garage Shield in action, please contact Alex Wolfram at awolfram@TheGarageShield.com or (888) 252-8006.
Videos available at TheGarageShield.com
Related Media