A Step Into the Future: How a Start-Up is Blending Traditions with Technology to Create Bespoke Footwear
Press Release
•
updated: Dec 7, 2016
Harperwoods lets you design your own luxury shoes. It provides value and choice at prices that are shockingly low.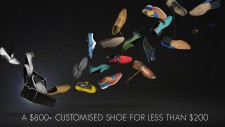 Tracy, CA, December 7, 2016 (Newswire.com) - ​Over the years, industrial revolution promoted mass-production, the traditional method of intricately handcrafting leather footwear has fallen prey to obscurity. Across the world, the art of handcrafting a pair of shoes as per customer's requirement is nearly extinct.
Harperwoods is a unique bespoke brand that's here to cater to the new age experimentalist, the quirky artist, the businessperson who dares to be different. Harperwoods is offering individuals the ability to express their styles without any compromise due to lack of options. And the canvas they are offering is the shoe.
The brainchild of Soham and Ruchika, Harperwoods is bringing about the unique but beautiful marriage of ancient artistry and cutting-edge design. They have built a Virtual Design Studio, where users can build their shoe, be it color, fabric, design etc. The shoes are handcrafted by experienced artisans in the leather beating bylanes of Agra that has served its skills and expertise to some of the most renowned fashion houses of the world.
Harperwoods works on the "As On Requirement" principle, thus there is negligible wastage keeping the process eco-friendly. According to founder Soham, "Luxury brands end up ditching piles of shoes owing to pressure of keeping brand exclusive and to cater to all sizes. ​Harperwoods makes shoes only when the customer orders for it, therefore we can maintain high focus on quality and have no extra costs to recover."
This makes Harperwoods affordable as well – a rarity in the world of bespoke luxury fashion.
On Harperwoods website, users have close to 7 billion combinations to try out, thus ensuring every shoe is unique to the user. Currently, they are crowd-funding on Kickstarter, an international rewards-based crowd funding platform, to launch processes and hire artisans.
For every pair that Harperwoods sells, it donates a pair of school shoes through its social initiatives.
Kickstarter community has recognized the uniqueness and come together to meet their funding goal in less than a week.
Soham concludes, "Top fashion houses employ Indian craftsman, but these artisans never get their due. Through Harperwoods we bring them into focus and also demonstrate that technology can help revive & nurture traditions while ensuring ecologically conscious fashion."
Check out their Kickstarter crowd-funding campaign here: https://www.kickstarter.com/projects/harperwoods/harperwoods-define-your-kick?ref=8djrxq
Or at their website: www.harperwoods.com
Media Contact:
Soham Rastogi
Harperwoods Customs Inc.
Phone: +1-866-629-7079
Email: soham@harperwoods.com
Source: Harperwoods Customs Inc
Related Media
Additional Links