A Smarter Way to Manage Your Smartphone While You Workout + Selfies Made Easy
The magnetic Z-Case and Z-Band take the hassle out of managing a smartphone while working out. The patent-pending technology creates a super-secure connection but also allows for unbelievably easy phone access. Also, because the Z-Case is magnetic, users are able to mount their phones nearly anywhere they are, to assist with taking hands-free selfies and group photos.
Press Release
-
updated: Dec 29, 2015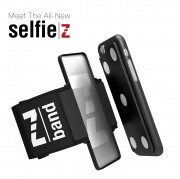 Cleveland, OH, December 29, 2015 (Newswire.com) - ​​​​​​​​​​​​​​​Managing a smartphone while exercising is nothing short of a hassle. So in an effort to create a solution for the millions of people that face this problem on a day-to-day basis, Cleveland-based startup Selfie-Z developed an absolutely innovative solution. A magnetic smartphone case and armband ​that make phone management a breeze. The small startup company recently launched a crowdfunding campaign on Indiegogo and the innovative products are available for pre-order for a limited time.​
The Problem Facing Gym-goers, Runners and Fitness Enthusiasts 
Since its inception, the smartphone has been increasingly difficult to manage while exercising and as a result more often than not finds itself in many of the following undesirable situations:
​Most

women don't have pockets, so a sweaty sports bra or waistband is a likely destination. This can cause water damage to phones and is downright uncomfortable.
 
Most men do have pockets, but in many instances find their phone falling from their pocket to the dirty floor. Some guys have even dropped heavy weights on their expensive

smartphone

, effectively smashing it to smithereens. 
 
Runners are likely to stow their phone away in a bulky armband (which renders their phone inaccessible), or worse yet in a sweaty, slippery hand.
 
For those that wish to record their form or share progress by way of a gym

selfie

, finding a place to mount a

smartphone

 for recording is a near impossibility. Propped up on a bench, dumbbell or against a machine are all popular but unsafe options.​
​


​Needless

to say...there had to be a better way.
Introducing the Z-Case and Z-Band
The magnetic Z-Case easily mounts to nearly any metallic surface, which let's face it, is pretty much every surface at the gym. No longer will gym-goers need a workout partner to film or photograph their form or progress. The Z-Case is all that's needed to achieve the perfect gym selfie. Hundreds of athletes are already using the Z-Case to capture content to share with their followers on social media. Check out @selfie_z on Instagram to see hundreds of examples. Outside of the gym, the Z-Case also mounts to refrigerators, metal doors, poles, cars, dry erase boards and many other fun locations. The possibilities are endless!
The ferromagnetic Z-Band is the perfect armband for nearly all physical activities. When paired with the magnetic Z-Case, it provides a super-secure smartphone mounting solution, but also allows unencumbered access to the user's phone. There has never been a better solution for phone management during exercise. It is appropriate for running, biking, weight lifting, HIIT, CrossFit and many other vigorous activities.
Production and Crowdfunding
Selfie-Z will begin shipping the iPhone 6/6S model of the Z-Case and Z-Band when production is complete in early 2016. While in development, prototypes of the products have been fully tested and approved by hundreds of fitness athletes, including some of the top competitors in the world. 
By launching an Indiegogo crowdfunding campaign, Selfie-Z is seeking help from the fitness community around the world to help fund the production of the Apple iPhone 6-Plus and Samsung Galaxy S6 models of their products. The campaign will run through January 25, 2016 ​and all pre-orders are discounted 15% for early-adopters. 
Share:
---
Categories: Consumer Electronics, Mobile and Smart Phones, Exercise and Physical Fitness
Tags: apple, armband, case, crossfit, exercise, fitness, galaxy, indiegogo, iphone, mobile, running, samsung
---