A Simple but Powerful Message: A Drug-Free Day in Bogotá
Press Release
•
updated: Jul 31, 2018
Drug prevention took on an entirely new dimension July 22 when Bogotá rallied in the name of a drug-free country.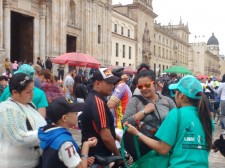 BOGOTÁ, Colombia, July 31, 2018 (Newswire.com) - A citizens' movement was launched by the people of Colombia July 22 — a movement that is a celebration of life. Hundreds of volunteers, officials and thought leaders came together to forward the message: "Less Drugs = More Life" on a day that is now known as Drug-Free Bogotá Day.
The morning began with a press conference featuring General Carlos Ramiro Mena Bravo, Inspector General of the Colombian National Police; Lieutenant Colonel Angelica Bedova, Chief of Prevention of the National Police; Miss Colombia International; actor/producer Agmeht Escaf; Durley Arias who heads the 3,000 Scouts of Bogotá; and Ingrid Lingyte, President of Drug-Free World Colombia. Bogotá TV stations announced the news that the day was Drug-Free Bogotá Day and encouraged people to come out and sign the drug-free pledge.
Then 400 volunteers set out to collect signatures at 34 stations throughout the city, resulting in the first 50,000 people pledging to live drug-free lives.
While this was happening, TV and movie personalities and sports figures used their social media to encourage the people of Bogotá to make this life-affirming commitment.
Nearby cities, seeing the excitement and popularity of the campaign, decided to create their own Drug-Free Day and participate in the overall goal of helping the first one million Colombians decide to live drug-free lives.
Drug-Free Colombia is a grassroots movement that celebrates life. Their message is simple but powerful: Without too much effort, anyone can make a difference in the lives of others. It begins by living drug-free, setting goals and making an impact by setting an example and supporting positive activities.
Source: Scientologynews.org
Related Media