A Parent Media Co. Inc. Announces the 'KidoodlED Million Dollar School Giveaway', Offering Schools a Chance to Win $10,000 for Educational Initiatives
Press Release
•
Apr 13, 2023
Leader in kids and family online entertainment invests in public education with expansive North American contest.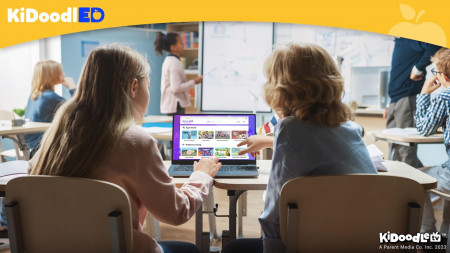 CALGARY, Alberta, April 13, 2023 (Newswire.com) - A Parent Media Co. Inc. ("APMC"), owner of Kidoodle.TV, the Safe Streaming™ service, today announced the launch of the "KidoodlED Million Dollar School Giveaway". This exciting initiative offers public elementary schools in Canada and the United States a chance to win $10,000 to support their educational programs and resources.
The contest, which runs from April 15 to May 15, 2023, invites school staff to nominate their schools by submitting a one- to three-minute video showcasing why their school should be chosen to win one of 100 $10,000 prizes and identify educational initiatives that will benefit their students. Voting opens on June 1 and runs until June 15, 2023, with winners announced on June 16, 2023.
Through the "KidoodlED Million Dollar School Giveaway", APMC aims to demonstrate its commitment to enhancing the lives of young people, not only through the power of entertainment but also through tangible support for educational initiatives.
APMC's president, Neil Gruninger, emphasized the importance of this initiative for the company: "At Kidoodle.TV, our mission is to provide safe and engaging content for young audiences. With the 'KidoodlED Million Dollar School Giveaway', we have the opportunity to extend our impact beyond the screen and into the classrooms of deserving schools across Canada and the United States. We believe in the power of education to shape the future, and we're excited to support schools in their mission to enrich the lives of their students."
By launching this contest, Kidoodle.TV continues to champion the value of family-friendly content and its role in promoting positive experiences for children. The "Kidoodle.TV Million Dollar School Giveaway" underscores APMC's dedication to giving back to the communities they serve and fostering educational opportunities for the next generation.
For more information on the "KidoodlED Million Dollar School Giveaway", including contest rules and how to participate, visit school-giveaway.kidoodle.tv.
About APMC and Kidoodle.TV
A Parent Media Co. Inc. is a family-based media and technology company focused on providing innovative solutions to consumers and brands, including Kidoodle.TV®, Glitch+™, and Safe Exchange™. Kidoodle.TV is a Safe Streaming™ service committed to providing children with a safe alternative to stream their favorite TV shows and movies. Available in over 160 countries and territories on thousands of connected devices, Kidoodle.TV provides peace of mind with every show* vetted by caring people committed to Safe and Free Streaming for Kids™. Kidoodle.TV is available on iOS, Android, Apple TV, Fire TV, LG, Samsung, VIDAA-enabled Hisense TVs, Chromecast, Roku, Vizio SmartCast Amazon, Jio, Xfinity X1, Connected TVs, HTML5 Web, and many other streaming media devices, including Miko 3. Kidoodle.TV is certified by the kidSAFE® Seal Program and is the proud recipient of the Mom's Choice Award®, a Stevie® Award, platinum winner of the Best Mobile App Award, and Parents' Picks Award - Best Elementary Products. Visit www.kidoodle.tv to learn more.
*Content availability varies by location.
Facebook: facebook.com/kidoodleTV
Twitter: twitter.com/kidoodleTV
Instagram: instagram.com/kidoodleTV
LinkedIn: linkedin.com/company/kidoodleTV
Source: Kidoodle.TV