A New, Online, International Competition for Wind Ensembles and Orchestras Seeks to Generate Popular Interest in Classical Music and Music Education
Press Release
•
updated: Mar 3, 2017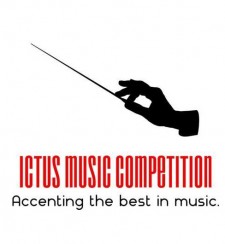 Philadelphia, PA, March 3, 2017 (Newswire.com) - ​​Ictus Music, Inc. has announced an innovative online competition titled the "Ictus International Music Competition" that is open to wind ensembles and orchestras at five different levels: middle school, high school, youth ensemble, university/conservatory and community ensemble. The competition is open internationally and will be judged online through video submission. All videos must be submitted no later than June 1st, 2017. The application can be found at www.ictusmusic.com.
Judges for the competition include:
"In today's landscape where arts funding is under threat again, we must do everything we can to make the work that music educators do be visible to the world."

Alexander Serio, Founder and CEO, Ictus Music
· Stilian Kirov, recipient of a Georg Solti Career Assistance Grant, conductor of Symphony in C in New Jersey and the Bakersfield Symphony in California, former Associate Conductor at the Seattle Symphony, and past assistant/cover conductor at the Chicago Symphony and Boston Symphony;
· Jan Wagner, winner of the 1994 Leopold Stokowski Competition and 1995 Malko Competition, former conductor of the Odense Symphony in Denmark, a former assistant/cover to Kurt Masur at the New York Philharmonic;
· James M Stephenson, award-winning composer whose music has been performed by the Boston Pops, St. Louis Symphony and President's Own Marine Band, and has been praised by the Boston Herald as "straightforward, unabashedly beautiful sounds," suggesting "Stephenson deserves to be heard again and again!"
· Dr. Scott Nelson, 2nd Trumpet at the Maryland Symphony, Principal Trumpet in the Ocala Symphony (FL), and former conductor of the Shenandoah Conservatory Wind Ensemble (VA) for 21 years.
The competition will post video interviews of its judges discussing their life in music, what they listen for when they adjudicate, and some tips for ensembles that apply. Ictus Music will also post each competitor's video to "fill the internet with classical music" and allow competitors to see what other ensembles are doing.
The competition will offer cash prizes and the chance to win an interview with a representative of Ictus Music, so that conductors of selected winning ensembles can share their hard work and passion for music with the world.
Founder and CEO, Alex Serio, a classically trained trumpeter, says, "The many music educators out there who put in numerous hard hours, fight against constant budget cuts and work tirelessly to get students to care about music deserve to be noticed, and I want to make it happen for them. In today's landscape where arts funding is under threat again, we must do everything we can to make the work that music educators do be visible to the world. While there are many music competitions and festivals out there, they usually only reach a small audience that already appreciates classical music and music education through a specific concert, conference or event. Or, if they take video tape submissions, they are never heard by the public; the ensemble may get an award or a trophy, and nothing more is heard. Ictus gives ensembles the ability to reach a worldwide audience online. Our competition gives a viable option to some ensembles that don't have the budget to travel to still have their voice heard and their hard work noticed. Any ensemble that can record a tape can compete."
Learn more about Ictus International Music Competition at www.ictusmusic.com.
Press Contact
​Alex Serio - Founder and CEO, Ictus Music
​alex@ictuscompetition.com
(267) 579-3909
Source: Ictus Music, Inc.
Related Media