A Multifaith Service at the Church of Scientology Celebrates World Interfaith Harmony Week
Press Release
•
updated: Feb 7, 2019
Listen and care: These were the watchwords of the World Interfaith Harmony Week service at the Church of Scientology Seattle.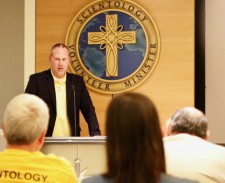 SEATTLE, February 7, 2019 (Newswire.com) - Scientology Volunteer Ministers organized an interfaith service Sunday, Feb. 3, at the Church of Scientology Seattle to promote dialogue among diverse faiths. The service was held in honor of World Interfaith Harmony Week.
The UN General Assembly established World Interfaith Harmony Week in 2010 stating "mutual understanding and interreligious dialogue constitute important dimensions of a culture of peace" and emphasizing the need to "promote harmony between all people regardless of their faith."
In keeping with this purpose, the sermon was based on "What is Greatness?" by Scientology founder L. Ron Hubbard, in which he wrote: "Happiness and strength endure only in the absence of hate. To hate alone is the road to disaster. To love is the road to strength. To love in spite of all is the secret of greatness. And may very well be the greatest secret in this universe." The service concluded with the Prayer for Total Freedom.
Rev. LaShund Lambert, pastor of Resurrection Church in Auburn, Washington, then spoke on the importance of listening to others. Interfaith harmony is based on an interchange of ideas, he said. He illustrated his talk with a PowerPoint presentation and many examples of the importance of treating others with respect — not finding fault with or demeaning them but rather finding areas of common ground in the midst of today's societal problems.
David Scattergood, who heads the Volunteer Ministers disaster response group in Seattle, then described the Volunteer Ministers program as a resource people of all faiths may use to provide help in their ministries. "Scientology offers practical solutions to help improve conditions in life, from improving communication and ending marital strife to helping a friend recover from the effects of drugs," he said.
In creating the Volunteer Ministers program in the mid1970s, Mr. Hubbard wrote: "The quality of being religious implies two things: first, a belief that evil, pain, bewilderment and injustice are fundamental facts of existence; second, a set of practices and related sanctified beliefs that express a conviction that Man can ultimately be saved from those facts."
Mr. Hubbard directed the compilation of the Scientology Handbook to provide tools for life contained in Scientology Scripture that anyone could use. He described a Volunteer Minister as "a person who helps his fellow man on a volunteer basis by restoring purpose, truth and spiritual values to the lives of others."
Rev. Scattergood described the extent of the Volunteer Ministers' international outreach. Through Volunteer Ministers Cavalcades and Goodwill Tours and one-on-one help at hundreds of disaster sites, millions of individuals have learned simple skills to alleviate physical, mental or spiritual suffering and improve conditions in life.
Seattle Volunteer Ministers put these solutions into action, responding to disasters in the area. They also provide meals for those in need through continuous service with Food Lifeline, assist various nonprofit groups with donated gifts and provide other services including free first aid and CPR classes for the community.
"It is through community service that bonds are strengthened between faith groups for the common good," said Scattergood.
The Volunteer Ministers program was expressly intended for use by Scientologists and non-Scientologists alike. Anyone of any culture or creed may train as a Volunteer Minister and use these tools to help their families and communities. And all are welcome to do so.
L. Ron Hubbard wrote: "If one does not like the crime, cruelty, injustice and violence of this society, he can do something about it. He can become a Volunteer Minister and help civilize it, bring it conscience and kindness and love and freedom from travail by instilling into it trust, decency, honesty and tolerance."
Source: ScientologyNews.org
Related Media