A Manifesto on Teamwork: What Companies Can Accomplish
Ron Wallace, Former President, UPS International, Offers Secrets To Success.
Press Release
-
updated: Apr 5, 2016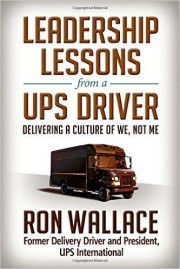 Atlanta, GA, April 5, 2016 (Newswire.com) - ​Ron Wallace was a package delivery driver for six years in rural northern Idaho before he rose through the ranks to become president of UPS International in one of the most recognized and respected companies in the world.
In his newest book, Leadership Lessons from a UPS Driver: Delivering a Culture of We, Not Me (Berrett-Koehler Publishers, April 4, 2016), Wallace shares his insights and advice from a career of nearly four decades.
He pulls back the curtain and describes the principals and inner workings of UPS that have never been revealed before; principals that have helped guide the company's success for more than a century.  
Instead of writing a typical business memoir celebrating the leader as a celebrity, Wallace shares vivid stories that focus on the people he worked with, the challenges they overcame, and how these fine-tuned principals have come to define the UPS way.
The straightforward and easy to understand lessons provide a blueprint for an individual or company to build on past successes and adapt to future challenges. This is a must read for anyone aspiring to become a great leader.
What others are saying: 
"UPS founder Jim Casey regularly reminded his managers of the many benefits of investing in their people. 'While building up others, you will build up yourself,' he said. Ron Wallace was a walking testament to this spirit, and his book will serve as an inspiration for all managers looking to help their teams climb to new heights."
- David Abney, Chairman and CEO, United Parcel Service
"Ron Wallace does a phenomenal job of sharing leadership insights in Leadership Lessons from a UPS Driver. You'll be intrigued as you learn to apply these principles to your life. Very practical steps yet remarkable results when applied."
- Dan T. Cathy, Chairman, President, and CEO, Chick-fil-A, Inc.
Hardcover copy sales are underway at: http://bit.ly/OrderLeadershipLessons
To arrange an interview with the author, contact Gary Mastro at G1Mastro@Earthlink.net or 404-434-0223. 
High Resolution Images (headshot; book cover front; text only presser): http://bit.ly/RonWallaceLeadershipLessonsImages
About the Author:
Ron Wallace is the former president of UPS International. During his tenure he was responsible for operations in more than 200 countries and territories with more than 60,000 people under his direction. He also served on the corporate management committee that oversaw day-to-day operations of UPS and its more than 400,000 employees as well as serving on numerous boards of the company's corporate subsidiaries. Following his retirement, Wallace served as chairman of the Georgia Governor's Commission charged with the formation of Milton, Georgia, along with other philanthropic and business pursuits. In addition to Leadership Lessons from a UPS Driver, author Ron Wallace's third published book, he's working on a fourth book about leadership practices of the Old West. 
---
Categories: Books, Work, Growth and Expansion
Tags: Leadership, Management, Services, Teamwork
---