A.L. Smith's 'Behind Closed Doors 2: Dana's Story' Earns Nod From Kirkus Reviews
"Smith's voice is both sturdy and elegant, delivering blunt, edgy prose that's never lurid." -Kirkus Reviews, 14 Recommended Indie Books
Press Release
-
updated: Jul 17, 2017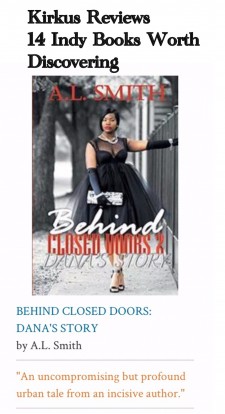 DALLAS, Texas, July 17, 2017 (Newswire.com) - Critically acclaimed author, A.L. Smith tackles the issue of human trafficking in her novel Behind Closed Doors 2: Dana's Story and earns a nod from Kirkus Reviews.
Human trafficking is often considered an international phenomenon and women from third world countries are typically the first images that come to mind. However, "familial human trafficking" is a more intimate crime due to the dynamics of the underlying relationships. Behind Closed Doors 2 is an intriguing urban fiction tale that captures the very essence of this sensitive issue. With over 100,000 cases reported each year, the story is perfectly timed.​
Setting: East St. Louis, mid-80s. The city is on the verge of economic collapse. Often considered the heart of America's bottom because of its location downstream from the Mississippi River, it is also one of the most impoverished small cities in the country. In light of the poor infrastructure, rampant crime, and poverty, East St. Louis is the epitome of a third world country and a breeding ground for sex trafficking.
Twelve-year-old Dana Toussaint is accustomed to a life of privilege; but when her father abruptly leaves the family, she becomes the ultimate sacrifice and her mother brokers the deal.
Dr. A.L. Smith is the author of the critically acclaimed Behind Closed Doors 2: Dana's Story and the producer of the award-winning independent short film "Dana's Story," which is an adaptation of the Amazon Best Selling novel. Smith is determined to use her voice as a writer and independent filmmaker to raise awareness concerning domestic human trafficking and other perils of urban living. 
Dr. Smith is a graduate of Grambling State University and a former member of the Lady Tigers Basketball team. She received her Doctorate of Nurse Anesthesia Practice from Texas Wesleyan University in 2012 and is a practicing Certified Registered Nurse Anesthetist. In 2010, she traveled to Haiti in the aftermath of the devastating earthquake and provided care to a countless number of victims. The experience would heavily influence her second novel, Behind Closed Doors 2: Dana's Story.
Contact 
Angela Smith
Phone 3184694470
Email akangela11@gmail.com
Source: Author A.L. Smith
Share:
---
Categories: Books, Movies, Multi-Media
Tags: A.L. Smith, author, human trafficking, indie filmmaker, urban drama
---