a.i. solutions to Host Second Annual Fireside Chat — Amplify Her Voice
Press Release
•
May 9, 2023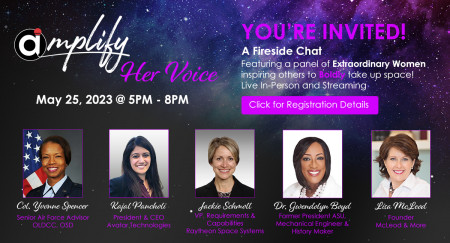 LANHAM, Md., May 9, 2023 (Newswire.com) - The women of a.i. solutions®, a leading space mission engineering services provider and space software applications developer, will be hosting their second annual Fireside Chat — Amplify Her Voice on May 25 from 5-8 p.m. This event will be held in person, and live-streamed, from the company headquarters in Lanham, Maryland.
The women of the executive leadership team have curated a distinguished guest panel of five powerhouse women from across the industry who will share their stories, reflect upon the value of embracing young women, and discuss their commitment to moving the needle by increasing the number of women engineers. This event will bring together more than 100 women in STEM industries, the Department of Defense, and academia with the goal of amplifying the voices of women while reminding them that "I shine, when she shines."
"a.i. solutions is committed to supporting our collaborative culture with programs that promote diversity, equity, inclusion, and accessibility," said Marisa Acheé, a.i. solutions' Vice President of Business Development. "I am privileged to be a leader at a company that recognizes the importance of women in executive roles and the value of diversity in supporting our customers' missions."
Visit a.i. solutions and the Amplify Her Voice webpage to view full event details, including the guest panelist lineup, and to register for this must-attend free event. The program is open to the public. Tickets are going fast, register today.
About a.i. solutions
Founded in 1996, a.i. solutions provides an engaged workforce that delivers innovative products and services enabling access to space and to ensure national security. a.i. solutions' services and products span space mission engineering, missile defense systems assurance, launch vehicle services, cyber and information assurance, and the FreeFlyer astrodynamics software. For additional information, please visit ai-solutions.com and @ai_sol on Twitter.
Source: a.i. solutions, Inc.