A Home for Community Projects in Clearwater
A local coalition holds its regular meetings in the Scientology Public Information Center in downtown Clearwater, where it addresses neighborhood concerns and what they can do to help.
Press Release
-
May 12, 2016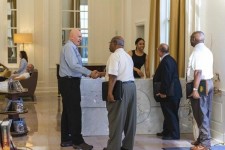 Clearwater, Florida, May 12, 2016 (Newswire.com) - "I heard that the conference room was available for group meetings," says Janice Keene, chair of the group she helped form in 2009 to bring the neighborhood together in the name of making the community safe. "It has the perfect setup and we've made it our regular go-to spot ever since."
Keene and fellow Scientologists started the group seven years ago to bring the neighborhood together. "We started off going from door to door seeing what we can do to make our neighborhood safer and create happier lives for the families here," she says.
The group expanded over the years and now also organizes parties and other get-togethers. "Everyone was invited," says Keene. "You could see the raised awareness and sense of community from this, with less crime and children playing safely on the streets."
Looking for a regular after-hours meeting place for her group, Keene thought of the Scientology Information Center. Its conference room seemed perfect as it was designed to provide a beautiful and functional resource for the community for meetings and small business seminars. The conference table seats 14 and the room has state-of-the-art sound system, TV screen, DVD player, HDMI and USB connectors.
Amber Skjelset, Scientology Information Center Manager, extends an invitation to others to take advantage of these facilities. "We make our conference room available to all like-minded groups to support their goals and mission," she says.
The Church of Scientology restored the historic Bank of Clearwater building and opened the Scientology Information Center in July 2015. In addition to the expansive conference room, it houses four audio-visual information displays that answer questions on beliefs and practices of Scientology and the many humanitarian and social betterment programs the Church supports.
Source: ScientologyNews.org
Share:
---
Categories: Religion, Community News, Society
Tags: Church of Scientology, Clearwater, community projects
---