A Fragile Tomorrow Debuts Single/Video 'Fraying Wire' From Upcoming MPress Release
Press Release
•
Jul 8, 2022
AFT's album "It's Better That Way" Out July 15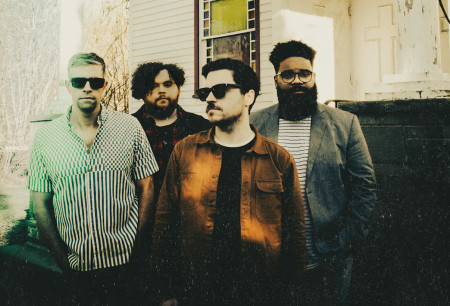 NEW YORK, July 8, 2022 (Newswire.com) - MPress Records has just released "Fraying Wire", the fourth track (accompanied by a live performance lyric video) by A Fragile Tomorrow ahead of the highly anticipated release of their new album, It's Better That Way (out July 15). The hooky music straddles the line between Brit Pop and Rock, with guests on the track including Vicki Peterson (The Bangles) on backing vocals, and Peter Holsapple (dB's, R.E.M., Hootie and the Blowfish, Continental Drifters) on synth. The track and live video premiered in Under The Radar.
Watch the Video for "Fraying Wire"
Directed and produced by Ted Comerford, and featuring AFT and Peter Holsapple on synth, the video was filmed at Dreamland Recording in West Hurley, New York. The video for "Fraying Wire" combines live studio footage overlaid with lyrics that transport one to the heyday of classic '70s television show introductions (think Adam-12) and the vibe of the Beastie Boys' "Sabotage". While paying homage to the '70s, AFT manages to stay uniquely current.
Sean Kelly says of the song: "It was molded musically for a while, and then the lyrics were written in direct response to the violent insurrection on January 6, 2021. Not only does it criticize the insurrectionists, but it really laments the current state of American politics and how we got to such an embarrassingly dark and low place as a country (corporatization of the political system). It's a sad state of affairs, really."
It's Better That Way is a sonic melting pot, combining many of the band's musical interests and diving into new territory as well. From Krautrock-psychedelia to indie rock swagger, to Crowded House-esque pop songcraft, to British folk and hip-hop-influenced sampling, the album showcases the diversity of the band under the "art rock" banner, a term that AFT has adopted in recent years that has allowed them the freedom to explore outside of the confines of genre. It's been three years since AFT's last album, the critically acclaimed Generation Loss - and well worth the wait, as AFT has reached a pinnacle with It's Better That Way.
Produced by the band, with additional production by Peter Holsapple (dB's, R.E.M., Hootie and the Blowfish, Continental Drifters), and mastered by Grammy®-winning mastering engineer Alan Silverman, It's Better That Way is their 3rd album for MPress Records, following their Independent Music Award-winning label debut Make Me Over in 2014, and 2019's Generation Loss. A Fragile Tomorrow consists of brothers Sean Kelly (singer/songwriter/guitarist) and Brendan Kelly (guitar/songwriter/pedal master), Shaun Rhoades (bass), and Josh Kean (drums). Guest appearances include Peter Holsapple (organ, synth, harmonica, harmonium, banjo) and Vicki Peterson (The Bangles).
For more info contact:
Jill Richmond-Johnson | jillr@mpressrecords.com | 212-481-7243
Source: MPress Records