A Dream to a Destiny: Razny Jewelers Marks 17 Years in the North Shore With a World-Class Expansion
Press Release
•
updated: Dec 2, 2020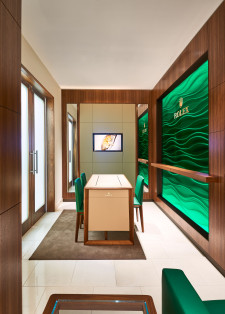 CHICAGO, December 2, 2020 (Newswire.com) - Stanley and Jane Razny were leaving an entire world behind — friends and familiarity they may never again know. Together, they traveled for weeks across waters and lands to settle in Illinois, a home that promised stability with wide-open leafy roads and communities founded on family. The journey was anything but easy for a young couple. Still, they were confident it'd be more than worth it. Their future was waiting for them, after all. All they needed was the fortitude to work for it. A gifted bench jeweler, Stanley found his place with Leed's Jewelers in the North Shore, almost 5,000 miles from where he'd started.
Like a brilliant diamond in a platinum setting, the North Shore is the jewel making Chicago shine even brighter as one of the most distinguished cities in the world. Neatly tucked against Lake Michigan's coast, it boasts the Highwood neighborhood's culinary delights, the oldest American outdoor music festival in Ravinia Park, and luxury shopping in downtown Highland Park. Many impressive landmarks have made this area the Midwest's worst kept secret. These destinations include the Bahá'í House of Worship, Chicago Botanic Garden, Illinois Holocaust Museum & Education Center, and Northwestern University.
Awarded for excellence in masonry, each brick of Razny Jewelers' boutique in Highland Park was laid at the direction of Stan Razny Jr. and his wife Ingrid. For these second-generation jewelers, who were starting a family of their own, a commitment to community was paramount. "We've taken our time to learn what works," says Ingrid Razny. "Our specialists live within the community and understand the needs of our guests. We hand-select each item displayed as if we were choosing jewelry and timepieces for a dear friend. The families of the North Shore have rewarded our meticulous care with a loyalty that is nothing short of humbling." Indeed, Stan Razny Jr. insists on selecting each timepiece displayed. Today, Razny Jewelers is the area's only jeweler representing Swiss timepieces innovators such as Rolex, Patek Philippe, Cartier, and Breitling, alongside designer and custom jewelry from the industry's top artists. Additionally, Razny Jewelers is proud of its in-house service and design shop, complete with expert watchmakers and artisans.
Along with a wide range of private philanthropic efforts and events, Razny Jewelers is solidifying its bond with the North Shore in an unprecedented way in 2020. Razny Jewelers is happy to announce the vast expansion of its Highland Park boutique at 1700 Green Bay Road. With more space and an updated aesthetic, Razny Jewelers brings the best of the world right to the front doors of suburban families. By investing in the area's well-earned reputation with brick-and-mortar retail, which is essential to a thriving community, Razny Jewelers is raising the caliber of the in-person shopping experience.
Razny Jewelers is most proud of the new Rolex installation, like no other in the city — a layout nearly 10 times the size of its previous in-house Rolex boutique, and one of the most substantial arrangements held by any private, family-owned jeweler in the nation.
Razny Jewelers' renovated location also offers a sprawling single floor, housing a modern in-house Cartier salon, an extensive collection of Breitling timepieces surrounded by a new Breitling visual concept, a space dedicated to diamond artisans Rahaminov, Kwiat, Penny Preville, private rooms, and exclusive VIP shopping suites. Stop in to study the most dazzling diamonds in the world or peruse the custom jewelry collection, crafted by the Razny Jewelers family.
Seventeen years after Stan Razny Jr. began working side by side with his parents, he and Ingrid built the Highland Park boutique from the ground up. Another 17 years have passed since then, and it seems only fitting that Razny Jewelers continues the legacy started by one young couple immigrating from Poland with a dream, who found promise and support in the North Shore.
Visit today to discover this newly expanded Razny Jewelers boutique.
Source: Razny Jewelers
Additional Links