A Celebration of Lifelong Learners
Crestcom Germany celebrates 10 year anniversary.
Press Release
-
updated: Dec 6, 2018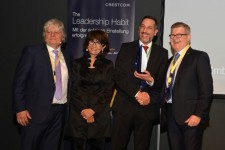 HESSE, Germany, December 6, 2018 (Newswire.com) - More than 200 guests gathered at the Old Goods Station in Bad Homburg to celebrate the 10th anniversary of Crestcom in Germany. Invited to attend were customers, friends and international guests of honor. Guests experienced an interactive training event with top-class speakers and much more. The event also featured clients who received the Crestcom Germany's Leadership Growth Award 2018.
Top-class speakers gave lectures on current and trending topics for companies and executives.
Professor Dr. Leif Erik Wollenweber, a Crestcom strategy and innovation expert, addressed how companies today have to quickly adapt to leverage disruptive market changes. He discussed how VUCA is reshaping the business environment and what it means for decision making, innovation, and leadership.
Tammy Berberick, CEO and President of Crestcom International, shared the importance of building a workforce of lifelong learners. She explains "To thrive in today's ever-changing market, you must have a workforce that is agile and always learning. They must be proactive and curious vs. reacting to the changes occurring. Organizations that build this type of workforce are far more competitive for the long term."
The highlight of the event was the presentation of the Crestcom Leadership Growth Award 2018 for outstanding leadership culture. This award recognizes companies that have made a special commitment to developing their leaders and building a great culture.
About Crestcom: Crestcom International, LLC is an international leadership development organization that has trained more than 1 million leaders for 25,000 businesses in 60 countries across the globe. Crestcom does this through a unique blend of live-facilitated multimedia video, interactive exercises, and shared learning experiences, followed up by action plans and accountability sessions to ensure measured development in key leadership competency areas. For more information or to schedule an interview, please contact Nicole Pinto at nicole.pinto@crestcom.com.
Source: Crestcom International LLC
---
Categories: Business to Business
Tags: b2b, international business, professional training and development
---