A Call to Arms: The All-New NetBurner ARM®-Powered IoT System-on-Module
Press Release
•
updated: Jun 12, 2019
A robust embedded computing and networking platform for IoT edge and gateway applications.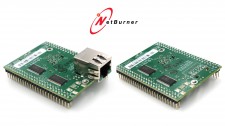 SAN DIEGO, April 4, 2019 (Newswire.com) - NetBurner, Inc. introduces its all-new ARM®-powered NetBurner embedded Ethernet System-on-Module and associated development kit. The MODM7AE70 is a scalable, robust, and high-performance computing platform for embedded systems and the Internet of Things (IoT). The product accelerates innovation and makes it easy to add secure Ethernet connectivity to new designs or existing systems. NetBurner's new ARM® Cortex®-Powered System-on-Module provides a spectrum of support for IoT applications in the manufacturing, energy, robotics, satellite communications, transportation, and automotive industries.
"Netburner has always been a pioneer in the Internet of Things," said engineer, Jonathan Cox. "Our new ARM-powered module draws from over 20 years of experience, and was developed to provide our customers with an easy-to-use ARM-based solution so they may quickly and successfully build and scale sophisticated yet reliable embedded IoT applications, products and automated systems. Combined with the release of our latest custom Real-Time Operating System and Development Suite, and the addition of the new remote configuration system, it's never been easier to get your projects up and running. At Netburner we feel that our customers' success is the key to our success. Every new product release or update is made with this philosophy at heart."
Users can deploy the product for a variety of applications in automation, IoT, IIoT (Industrial IoT), edge computing, fog computing, communications and general device interfacing and networking. It offers a galaxy of brilliant features like an optimized RTOS, 10/100 MBPS Ethernet, high-speed serial peripherals, analog and digital data converters and I/O, real-time clocks and timers, and even Digital Signal Processing (DSP) and image processing capabilities. The module can also function as a modern web server or IoT gateway that supports networking, HTTPS, FTP(S), a host of industrial and machine automation protocols, encryption with SSL/TLS v1.2, serial communication (RS-232/485), I2C, SPI and more.
Further accelerate and de-risk product development for serious IoT and embedded applications with the MODM7AE70 development kit. The kit comes complete with platform hardware, a full-featured carrier board, cables, NetBurner's newly updated development suite, deployment tools, security and protocol libraries, and in-house technical support for only $129.00.
Contact sales@netburner.com
Jonathan Cox
Phone: 858.558.0293 x217
Email: jcox@netburner.com
Source: NetBurner, Inc.
Related Media
Tags
Related Files
Additional Links