A Billion Yahoo Hack Victims: The Personal Cyber Crisis is Real
CYBERCRISIS- It's Personal Now by William Keiper: Read about the personal impact of the Yahoo data breach.
Press Release
-
updated: Dec 15, 2016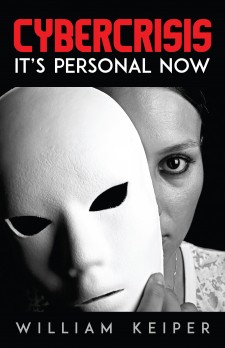 New York, NY, December 15, 2016 (Newswire.com) - William Keiper's new book CYBERCRISIS - It's Personal Now (published by FirstGlobal Publishing), is now available on Amazon.com.  For those victimized in the YAHOO hack, CYBERCRISIS will arm them with crucial knowledge about being hacked, smartphone and internet addiction, fakers on social networks, content over-sharing, the Dark Web and the personal impact of cybercrime. It offers the basics of what to watch for and what to do. 
"The Yahoo data breach is a monstrous wake-up call that we have a personal responsibility to protect ourselves online. The rising global cybercrisis is no longer something remote from the typical social media user. It has found us on our smartphones, tablets and computers," said CYBERCRISIS author William Keiper.
"The stolen user account information may have included names, email addresses, telephone numbers, dates of birth, hashed passwords (using MD5) and, in some cases, encrypted or unencrypted security questions and answers," Yahoo said in a note sent to its registered users on December 14, 2016.
"When online, you, your friends, children, parents, co-workers and social acquaintances are always just one click away from a stalker, predator, thief, troll, catfish or another social media sewer dweller. Protecting you and yours is not someone else's problem—it is a matter of personal responsibility," said CYBERCRISIS author William Keiper.
"CYBERCRISIS represents a warning shot for those predisposed to trust their fellow man in the real-world and, without thinking, carry that bias into cyberspace," Keiper states. He continued, "After reading CYBERCRISIS, you will better understand this dynamic relationship, and I believe will be motivated to accept a higher level of personal responsibility for your digital well-being."
"CYBERCRISIS answers the question, 'How can we harness the value of internet technology without opening the door to our real- lives?'" ~Stephen McGhee, Transformational Leadership Coach and author of Climb to Freedom and Get Real. "CYBERCRISIS will wake you up from a nightmare you didn't even know you were in. Once again, William Keiper has written a book that shines a light for the rest of us." ~Steve Chandler, author of Time Warrior.
The author has been a part of computer technology and software businesses since shortly after the launch of the first Apple and IBM personal computers. In these public and private technology and related companies, he served as CEO, board member, and strategic advisor. Through this work, he gained experience, understanding, and perspective about digital age developments and their personal impacts, good and bad.
CYBERCRISIS author Media Contact:
pr@firstglobalpartners.com
Source: FirstGlobal Publishing
Share:
---
Categories: Internet Computing, Social Media, Information Technology
Tags: cyber crime, cyber crisis, cyber security, cybernetics, hacking, human computer interaction, Internet, social media, Web, Yahoo data breach
---