A. Benjamin Mannes Appointed to Lou Barletta's Public Safety Advisory Board
Press Release
•
Oct 6, 2021
Subject matter expert brings a unique perspective in criminal justice reform, compliance, and national best practices to the Barletta team.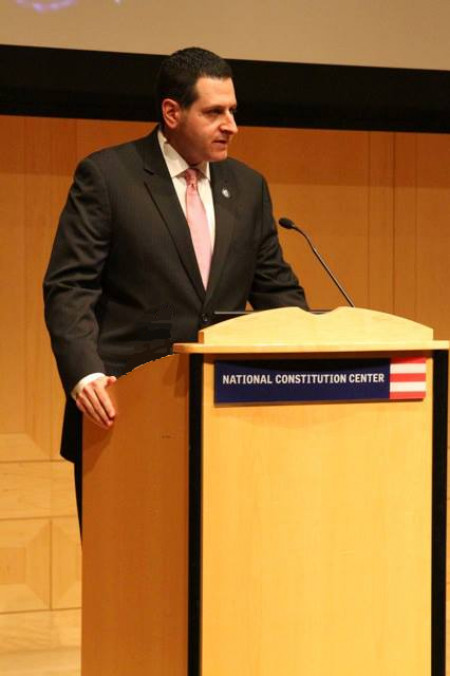 PHILADELPHIA, October 6, 2021 (Newswire.com) - In September, A. Benjamin Mannes, a subject matter expert in compliance and public safety, was appointed to Gubernatorial candidate Lou Barletta's Public Safety Advisory Board.
Mannes, who served in both federal and municipal law enforcement before leading investigations for North America's largest medical board, as well as in consulting and compliance roles, joins members of Pennsylvania's law enforcement, corrections, and fire communities to advise Barletta.
A regular columnist for the Philadelphia Weekly and Broad + Liberty, Mannes brings a risk-based perspective on criminal justice reform and applying national best practices to Pennsylvania's public safety community.
"Currently, violent crime is surging because of a misinterpretation of criminal justice reform, where local policies fail to disrupt cycles of criminality," A. Benjamin Mannes said. "Congressman Barletta's campaign asked me to join this accomplished board to apply my unique experience in criminal justice reform to assure that people who've made mistakes in the past can get a second chance -- while assuring public safety for all communities."
Mannes also seeks to apply best practices throughout the United States. "Throughout America, states have benchmarked best practices in training, working with courts, local law enforcement, and corrections to streamline processes," Mannes continued. "This lowers pretrial incarceration and keeps law enforcement on the streets where they can protect citizens."
"It's time to restore common sense to the Commonwealth," said Barletta in a statement. "Our governor has a duty to protect his constituents. These trusted advisers will help me craft my policies to crack down on the lawlessness overrunning our Commonwealth and empower law enforcement and first responders to do their jobs effectively so they can keep us safe."
"This isn't political," said Mannes. "Leaders should put safety over special interests and agendas. The fact that Lou Barletta has assembled a diverse group of criminal justice experts to listen and learn from this early in the campaign, speaks volumes about his ability to lead Pennsylvania."
About A. Benjamin Mannes: Ariel Benjamin Mannes, MA, CPP joined the public safety community with New York Police Departments while attending College. He then served as a federal officer assigned to the NY Terrorist Trials Operations Command before joining the DC Metropolitan Police, where he served through the 9/11 attacks and DC-area Sniper Task Force. He then served in external assignments with the federal government as an Intelligence Analyst and Inspector before being thrust into a legal battle over DC's unlawful firearms prohibition in 2005. Following his 2007 reinstatement to the DC Police, Mannes served as a risk management consultant and expert witness; and was later appointed Director, Office of Investigations with the American Board of Internal Medicine from 2008-2017.
Source: Lou Barletta's Public Safety Advisory Board