9th Annual Awareness Film Festival Opens Tomorrow, Spotlighting Films That Make a Difference, Runs Sept. 27 - Oct 7., 2018 in Los Angeles
Heal One World is proud to present the 2018 Awareness Film Festival, running Sept. 27 to Oct. 7, at the Regal Theatres in Los Angeles. The festival showcases ecological, health, well-being, political and spiritual films.
Press Release
-
updated: Sep 26, 2018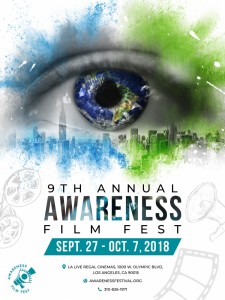 LOS ANGELES, September 26, 2018 (Newswire.com) - The 9th Annual Awareness Film Festival returns this year tomorrow, Sept. 27, and runs through to Oct. 7, 2018. The Awareness Film Festival, which was recognized this year as being one of the Top 100 Reviewed Film Festivals by Film Freeway, celebrates with a vital program that brings a focus to ecological, health/well being, political and spiritual films from all around the world.
Taking place at The Regal Cinemas in L.A. LIVE, the Awareness Film Festival has continued to grow and to help promote change in the world on a socio-economic level. This year will not only include screenings of incredibly inspirational and thought-provoking films, but will also play host to filmmaker Q&A's, panel discussions, live music, speakers, artists, parties, and a virtual reality showcase.
The Awareness Film Festival is delighted to announce its Opening Night and LA Premiere Gala featuring Make America Black Again starring multi-Image Award nominee Leon (Little Richard, The Temptations), and Carl Reiner's  (Ocean's 13, Ocean's 12, Oceans's 11) HBO documentary If You're Not In the Obit, Eat Breakfast, and the World Premiere of Sharon Stone-produced We The People.
AFF will also host numerous World Premieres including We Are One with Forest Whitaker, Journey of Hope, Murder on The Reef and Eleven Arts Anime Studio's Laws Of The Universe: Part 1 will celebrate its World Premiere on Oct. 6th, as the festival's Spotlight Film.
Love & Bananas with Ashley Bell and John McCarthy will wrap up the 9th Annual Awareness Film as the closing night film.
Founder Skye Kelly shared, "Never has there been a more important time to stay diligent and have our eyes, ears, and hearts open to issues that affect everyone, directly or indirectly. This year's selections highlight an especially diverse range of issues and give us pathways to action. Staying informed is no longer a luxury but a necessity - we need to stay loud about things that matter." 
For a detailed film schedule and list of special events, including the Opening Night Gala, Laws of The Universe Premiere Party and Closing Night Awards and panels, please visit
https://www.awarenessfestival.org/
The Awareness Film Festival is presented by Heal One World. The Los Angeles-based non-profit was formed to help connect people in need of preventative health care, non-traditional/complementary modalities, natural non-invasive treatments and guidance learning self-help techniques that are generally not covered by insurance, and offer access to this help on a sliding scale, free or donation basis.
All proceeds from the festival will go towards Heal One World.
Tickets:  https://awarenessfestival.org/2018-festival-schedule/tickets-passes/
Connect With Awareness Film Festival:
Facebook: AwarenessFest
Twitter: @AwarenessFest
Instagram: @AwarenessFest
Source: Awareness Film Festival
Share:
---
Categories: Celebrities
Tags: awards, Awareness Film Festival, breaking movie news, breaking news, charities, Sharon Stone
---