8 Mind Blowing Before and After Wedding Photos by Cloak Photography
Press Release
•
updated: Mar 29, 2016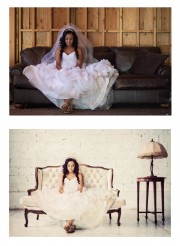 Los Angeles, CA, March 29, 2016 (Newswire.com) - Los Angeles based wedding photographer Leon Jimenez who owns Cloak Photography was photographing a wedding and the bride looked stunning in her beautiful wedding dress. The particular space she was in not so much. He had an idea for a shot in his mind and the venue had a lovely bridal suite but the Bride had broken her back months before the wedding and was not up to make the trek back to the suite so Leon said, "don't worry I will change the background." Leon has 18 years of ​ Photoshop experience and was feeling confident at the time in his skills to pull it off. "I didn't even start working on the image for weeks. I really thought it I might have bit off more than I could chew," he admits.
The final result was simply, "WOW". The location's "unfinished basement look" was transformed into an creamy urban-meets-contemporary chic living room and a photo that would give any bride the chills.
When Leon first did a photo where he swapped the background he says he asked other photographers if he is allowed to do that. He remembers one particular response, "why not?". "I was not doing photojournalism. My bride was the client and it came down to what she wanted", he says " "I honestly am trying to create beautiful art", he continues. "I see certain photos as a starting off point for the creative process. Of course these are extreme examples. Most edits the couple won't even realize anything was changed. Removing exit signs, waiters in the background, adding lights. Whatever the image calls for."
Los Angeles has more wedding photographers than any other city in the world. "It's extremely competitive in L.A and these photos have helped me get noticed by brides", Leon admits. As for the future Leon would like to expand his canvas. "I really want to travel outside of L.A. and shoot destination weddings or new interesting places. But until then I will just fake locations in Photoshop," he says with a wink.
You can see and follow Leon and his team on his Cloakphoto instagram feed or facebook page.
Related Media