6,000 Attend American Disabilities Foundation's 11th Annual Boating & Beach Bash for People With Disabilities
Nation's Largest Family Fun Day for People with Disabilities Dazzles in Boca Raton, Florida
Press Release
-
updated: Apr 10, 2019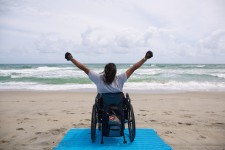 BOCA RATON, Fla., April 10, 2019 (Newswire.com) - Throughout the morning of Saturday, March 10, 2019, approximately 6,000 guests arrived in wheelchairs, on walkers, gripping canes, led by service dogs or holding on to the arm of a loved one or caregiver for support. Presented annually by the American Disabilities Foundation, it was the 11th-anniversary celebration of America's foremost free, family-fun event for people with disabilities and their caregivers. And these people were ready to party.
The Boating & Beach Bash for People with Disabilities is held each March in the lush, jungle-like expanse of Spanish River Park in Boca Raton, Florida. The park straddles the ocean on one side and the Intracoastal Waterway on the other. The festival brings together children, teens, adults, seniors and wounded warriors with every conceivable disability for an event unlike any other in the nation.  Everything at the Bash is complimentary, including an all-day concert, a BBQ lunch, boat rides and dozens of attractions on the beach, in the park and on the water. For many guests, it is their most anticipated outing of the year. Funding comes from national and local sponsors, along with community support.
"Each year, we reach out across America to invite families that have loved ones with a disability, encouraging them to join us for a free day of picnicking, boat rides, live music and fun suited for all ages and abilities. For many of those who came this year from more than a dozen states and Europe, it is part of their Spring Break ritual. It is the one event where they can bring a loved one, fully relax and not be judged or stared at for their differences. For the thousands who participated in the 2019 Bash, and for the hundreds of volunteers there to help them, it was one of the most memorable days of their lives," said Jay Van Vechten, Bash executive director.
Van Vechten anticipates that each visiting family spends about $500-$750 in hotel stays, food, shopping, gasoline and accompanying recreational activities during their trip to attend the Bash. The impact makes the Bash one of the county's largest tourism draws during Spring Break.
Started in 2009 as an event hosted by the City of Boca Raton Disability Advisory Board, the City of Boca Raton relinquished the Bash in 2011 to Van Vechten and his wife Lowell. Since then, through community support and donations, the couple and their 25-member planning committee have pushed the event's growth beyond anyone's wildest expectations.
"Clearly," said Van Vechten, "we struck a chord in the disability world. What makes this event work is that it is totally free with no strings attached. Everything is taken care of from entry to the park to a hot grilled lunch with all the trimmings. Our guests," he continued, "enjoy a concert with multiple national performing artists, full beach access thanks to mobility mats on the sand, the opportunity to meet dozens of exhibitors offering goods and services specifically geared to their special needs, a Kids Fun Zone for the little ones and, at the heart of the Bash, the opportunity to ride on one of 20 privately owned motor yachts, on loan for the day by members of local yacht clubs and marinas."
"The majority of Bash attendees tend to live restricted lives," said Bash Medical Director Dr. Albert Dabbah. "They're not likely to visit a mall, a local movie theater or even hang out with friends at a fast food restaurant," he says. "Most have never even been for a boat ride or enjoyed a relaxing picnic in the park with their loved ones until they participated in the Bash. It really is heartwarming to observe," he concluded.  
Attendees were thrilled this year to be greeted by dozens of costumed action heroes and characters from film and television, including Snow White, Cinderella, Batman, Captain America, Wonder Woman and Superman. Throughout the day, these popular figures interacted with guests on the beach, joined them for boat rides, danced with them, even had lunch with them.   
One of the Bash's most popular attractions is a miniature train that toots its horn and rings its bell as it steams through the park all day. With five cars, each capable of holding up to four passengers, the train is fully accessible, allowing those in wheelchairs to roll aboard and enjoy a fun, safe ride.   
The Boating & Beach Bash prides itself on the quality of the entertainment it provides. This year's talent featured only artists with disabilities, including Kechi Okwuchi, a Golden Buzzer finalist on America's Got Talent, Rion Paige from the X-Factor, Latin Grammy singer Natalia Sulca, rapper and recording artist Jeremie Phenom Thomas, and the 21 visually impaired singers of the United Voices Choir of Miami's Lighthouse for the Blind. 
The biggest treat of the day was the return of Ms. Okwuchi, who also performed at the Bash last year. This past February, she finished as a finalist on the Championship version of AGT. A burn victim, she has endured over 100 surgeries following a fiery plane crash in Nigeria a dozen years ago. She spent much of the afternoon greeting festival attendees, hugging them, posing for photos and signing autographs. She said it was one of the most memorable days of her life. The next Bash will be held on Sunday, March 1, 2020.
The Boating & Beach Bash for People with Disabilities is presented annually by the American Disabilities Foundation Inc., a 501(c)(3). It is sponsored by the Rotary Club of Downtown Boca Raton, Royal Palm Yacht & Country Club, the Boca Raton Resort & Club, the Marine Industries Association of Palm Beach County, Pepsico, Coldwell Banker, TD Bank, Douglas Elliman Realty, Ronald McDonald House Charities, Office Depot Foundation, Doubletree by Hilton Hotel Deerfield Beach and more than a dozen foundations, including title sponsor Harcourt M. and Virginia W. Sylvester Foundation Inc., The Schmidt Family Foundation Inc., the E.M. Lynn Foundation Inc., the Landegger Family Charitable Trust, the Listen Learn Care Foundation and numerous private donations. For more information about the Bash, write: The American Disabilities Foundation Inc., PO Box 99, Boca Raton, FL 33429 or call 561.715.2622. Visit us at www.boatingbeachbash.com or follow the Bash on Facebook @ Boating & Beach Bash for People with Disabilities. To donate to the American Disabilities Foundation Inc., write to the ADF, PO Box 99, Boca Raton 33429. Donations can also be made via PayPal on the Bash website.
For further information, contact Jay Van Vechten, 561.715-2622,  info@boatingbeachbash.com.​
Source: American Disabilities Foundation
Share:
---
Categories: General Interest, Rehabilitation and Physical Therapy
Tags: 2019, beach, boating, boca raton, disabilities, festival, florida, music, southeast, Spring Break, therapy, tourism
---