50 State DMV CEO Recognized as a 2018-2019 Influencer
Kimberly Skaggs, CEO of 50 State DMV, joins International Association of Women (IAW) networking organization
Press Release
-
updated: Dec 7, 2018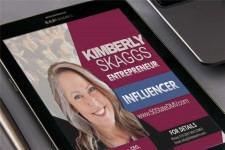 LAS CRUCES, N.M., , December 7, 2018 (Newswire.com) - The International Association of Women (IAW) recognizes Kimberly Skaggs as a leader in entrepreneurship and a 2018-2019 Influencer. The organization is a global in-person and online networking platform with nearly one million members, 1000+ in person and virtual events, over 100 Local US-based Chapters and International Chapters in several cities in China.
"I'm pleased to welcome Kimberly into this exceptional group of professional women," said IPDN President and IAW Spokesperson Star Jones. "Her knowledge and experience in her industry are valuable assets to her company and community."
Kimberly Skaggs got her start in the automotive industry when she was young, working at a very small used-vehicle dealership. "It was a little car lot," she said. "It was so small that I did everything, from detailing cars, answering the phone, selling vehicles, maintaining the floor plan, cleaning the bathrooms and handling the DMV portion of the sales cycle. I promptly fell in love with the automotive industry. I worked for an older gentleman who was a rough boss, a real tough cookie but he taught me everything he knew."
Although she left the industry to raise her children and help her husband run his business, Ms. Skaggs knew one day she would be back. Sure enough, once her kids were grown, she started working in the automotive industry again, only this time, she was the boss. "My company, 50 State DMV, offers commercial title and registration services to dealerships. It was born out of a necessity for providers of this type of service," Ms. Skaggs said.
As CEO of the company, Ms. Skaggs uses her expansive knowledge of and passion for the industry along with her leadership skills as she acts as both a cheerleader and a researcher. "I actively search out examples to applaud and support all efforts to improve the industry," she said. "As far as the cheerleader part, we are building a bombproof team of highly skilled professional people to continue our efforts to take the mystery out of vehicle title work. I'm doing everything I can to keep them encouraged."
Self-motivated and results driven to succeed, Ms. Skaggs has constantly set her goals to keep pace with her highest aspirations for success. She doesn't mind a challenge, in fact, the bigger the challenge, the better. She keeps a journal where she lists her goals and dreams and proudly admits she has recently achieved one of her greatest goals. "I wrote a book!" she exclaimed. Ms. Skaggs' Title Clerk Master Course is available as an e-book or in paperback. "It is a very niche book, specifically for dealers that want to train their office staff to improve their title and tag service."
Ms. Skaggs is also an FAA-certified VFR Private Pilot. "Anyone can fly, I can land," she said jokingly.
50 State DMV will be an exhibitor at 2019 National Automobile Dealers Association (NADA) Expo at Moscone Center in San Francisco January 25-27. Their booth is #7436W in West Hall Level 2.
ABOUT 50 STATE DMV
50 State DMV provides vehicle title and registration processing services for automotive dealers, corporate fleets, financial institutions and other businesses that require vehicle title and registration services throughout the U.S. The company also offers online vehicle title clerk training as well as on-site training. To learn more, visit www.50stateDMV.com.  
About IAW
The International Association of Women (IAW) is a global in-person and online professional networking platform that provides nearly one million women the forum, professional development and services needed to thrive in an interconnected world. Founded in Chicago in 2017, IAW is a division of Professional Diversity Network, Inc., an online network tailored to provide diverse professionals in the United States with access to employment opportunities. For more information, visit www.iawomen.com.
Source: 50 State DMV
---
Categories: Automotive
Tags: automobile dealership, automotive, automotive industry, commercial title, Dealership DMV, department of motor vehicles, registration services, title clerk, title clerk master course
---