5 Reasons Why Your Child Should Learn to Code
MakePi will democratize coding teaching around the world.
Press Release
-
updated: Sep 19, 2017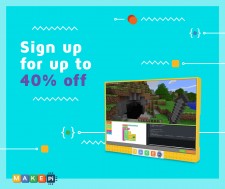 SAN FRANCISCO, September 19, 2017 (Newswire.com) - MakePi is a startup that was born to empower learners, makers and educators. MakePi has a background in STEM education and technology that comprises Happy Code's computer science teaching across U.S., Latin America and Europe. Their dream is to make tech education possible for every child from all over the world with MakePad.
1 - Programming teaches you a number of life skills.
Code inspires your child to build their own paths and solutions. They will better understand the world around them. Learning how to program motivates them to not only simply interact with technology but create and express in new ways. Their minds are open to all the possibilities and their creativity is expanded by simply learning computer science. They also can develop critical thinking skills and problem-solving processes.
2 - There is a high demand for programmers
Over the next 10 years, programming will be one of the fastest growing occupations with 1.4 million jobs to fill. And yet, only 1 of 10 schools currently teach computer science. Learning to code will increase the odds of a lucrative STEM career, especially in a world where computing jobs are growing at over twice the national average. Students who gain the skills early can achieve success at a very young age.
3 - Computer science is the new language of the world
The technology provides new facilities for our lives. Every field relies on more software developments. It's one thing to know how to use these technologies, but not everyone knows the logic behind them. We will no longer be able to consume without understanding technology.
4 - Coding is Fun!
Kids are going to look like they have magic powers with their code knowledge. If they like Minecraft, imagine how they'll love learning how to code as they mod Minecraft. Programming inspires your child creativity to develop their one games, apps, and more.
5 - Programming can change the world
Computers and connected devices are becoming the support for several problems in our community. Students can go on to change lives with computer science by working in defense, energy, education or health. We're seeing all around us that programming can change the world.
________________________________
By November, we will be launching MakePad on a crowdfunding platform. Follow us on this journey subscribing at makepi.com and help our children towards infinity and beyond!
Contact: Marcos Oliveira
marcos.oliveira@makepi.com
www.makepi.com
Source: MakePi
Share:
---
Categories: Video Games, Business News, Business Technology, Business to Consumer, Educational News, Educational Technology
Tags: Children, Education, MakePi, Makers, RaspberryPi, Tablet
---