44-Day Run Through Hungary in the Name of a Drug-Free Country
Press Release
•
updated: Apr 29, 2018
17th annual Marathon for a Drug-Free Hungary races throughout the country to reach youth with the truth about drugs.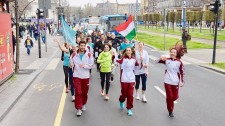 BUDAPEST, Hungary, April 29, 2018 (Newswire.com) - The Drug-Free Hungary Marathon is not only the largest sports-related drug prevention campaign in Hungary, it is one of the largest in Europe. Team members run for 44 days, traveling to towns and cities throughout the entire country.
In each town they visit, they hold drug prevention events and provide drug education lectures in local schools using the Truth About Drugs materials of the Foundation for a Drug-Free World. Their goal is to reach youth with factual information about what drugs are and what they do so the youngsters can make a firm, self-determined decision to live drug-free.
Now in its 17th year, the Drug-Free Marathon has developed a team of experienced volunteers who share a commitment to help the country's youth.
They launched from Budapest Saturday, April 7, and the team will visit hundreds of towns and cities by the time they arrive back home in the nation's capital 44 days later on May 20. They publish their entire route on their website including the approximate times they will be arriving in every town and village along the way.
In each city, the team arranges events, often with entertainment, where they lead children in taking the drug-free pledge. They meet with mayors and council members, deliver drug education lectures and hand out copies of Truth About Drugs booklets. Public officials often help with the team's sendoff, running with them to the edge of the city accompanied by a crowd of enthusiastic local children to see them on their way.
The Church of Scientology and its members support the Foundation for a Drug-Free World, a secular nonprofit corporation that empowers youth and adults with factual information about drugs so they can make informed decisions to live drug-free. The Foundation's Truth About Drugs campaign is one of the world's largest nongovernmental drug education and prevention initiatives. Thanks to this support, the foundation provides drug education booklets, videos and educator guides free of charge to teachers, mentors and civic and community leaders.
According to the United Nations Office on Drug Abuse and Illicit Trafficking, "Every dollar spent on prevention can save governments up to ten dollars in later costs."
Source: ScientologyNews.org
Related Media