4 Main Ways User Data is Collected in the U.S. and How to Stay Private
NordVPN explores 4 major data collection methods in the U.S.
Press Release
-
updated: Jun 1, 2017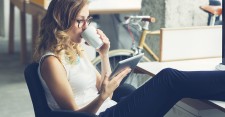 New York, NY, June 1, 2017 (Newswire.com) - 82% of Americans said they don't like being tracked by third parties online, but only 10% believe they are being tracked more than 100 times per day, according to Envista Forensics survey from 2017. However, the reality is much grimmer: tracking and data collection is everywhere.
NordVPN looks at how people are being tracked in America.
Here are the main ways people are being surveilled and their information collected:
1. ISPs (Internet Service Providers)
U.S. Congress has recently rolled back FCC privacy regulations and allowed ISPs to collect detailed and personal information about their subscribers and sell it to third parties without consent (ad buyers, ad aggregators, government, etc.). Such data includes precise geolocation, financial information, health information, children's information and web browsing history. FCC is now also banned from passing even less strict regulations in the future. 
2. Google, Facebook and other giant tech companies
Data has recently become the most valuable commodity in the world, and it stays in the hands of a few giants, namely Google, Facebook, Amazon, Microsoft and Apple.
Facebook knows a user's friends, all interactions, sites visited, purchases, devices a person uses to access Facebook, and much more. Google collects a user's name, email address, telephone number and credit card (if entered). It also uses different types of cookies to track one's interaction with other websites, device used, search queries and so on.
3. Government
The U.S. government collects Internet searches, websites visited, emails received and sent, social media activity, blogging activity, videos watched, Skype calls and so on.
For example, the NSA collected 151 million phone records in 2016. While the NSA is now reined in and collects much less data (it potentially collected billions per day under old system), this is a large amount of information collected without consent.
4. Advertisers
Internet users are being tracked by advertisers as soon as they go online: The ad for some recently Googled product suddenly reappears on every Internet page visited. Moreover, advertisers are using cross-device tracking, which raises additional privacy and security risks. In cross-device tracking, ad companies and publishers try to build a consumer's profile based on their activity throughout computers, tablets, smartphones, smart watches and various IoT devices. Basically, most Internet users are tracked from the moment they wake up till they go to sleep through the variety of devices and physical locations revealed by their GPS coordinates.
When such large amounts of data are collected and/or shared, there is always the risk of system malfunctions or hacking attacks, and huge amounts of people's personal information can end up in the wrong hands.
"We are disappointed that U.S. Congress keeps passing new laws undermining people's privacy, such as the new legislation that gave ISP new rights, sacrificing the right to privacy of American citizens and favoring major Internet companies," said Marty P. Kamden, CMO of NordVPN. "Furthermore, such accurate profiling is used to influence people's buying or even voting decisions."
What can people do?
When faced with such data control by government, ISPs, large companies, and advertisers, people still have the power in their own hands to protect their privacy.
According to Marty P. Kamden, CMO of NordVPN (Virtual Private Network), "Internet users should regularly delete cookies, install anti-virus and anti-tracking software, and make sure not to enter personal passwords and credit card information when using open Wi-Fi networks. The best-known method to keep your information private and encrypted from ISPs is a VPN."
A VPN encrypts user data and routes it through a secure tunnel before accessing the Internet — this protects sensitive information about one's location by hiding their IP address. A VPN connects a user to the Internet through an alternative path than an ISP. The only information visible to an ISP is that a user is connected to a VPN server and nothing else. All other information is encrypted by the VPN's security protocol.
NordVPN is determined to hide and secure users' data with features like double encryption and a strict no logs policy. From the moment a user turns on NordVPN, their Internet traffic becomes encrypted. It becomes invisible to governments, ISPs, third-party snoopers and even NordVPN.
To find out more about NordVPN, please visit www.nordvpn.com.
Source: NordVPN
Share:
---
Categories: Internet and Streaming Media, Internet and e-Commerce, IT Security, Telecommunications, Internet
Tags: Email privacy, FCC, ISPs, NordVPN, Online privacy, VPN
---