3rd Annual New Roseland Hospital Legislative Breakfast Promotes Party Unity
Political leaders from the Democratic and Republican parties joined together at the 3rd Annual New Roseland Community Hospital Legislative Breakfast to commit to solving the financial issues facing all Safety Net Hospitals and the State of Illinois.
Press Release
-
updated: May 2, 2016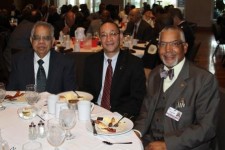 Chicago, IL, May 2, 2016 (Newswire.com) - ​​​​​​​​​Former NFL player and one-time Chicago Bear Ray McElroy played host to the 3rd Annual New Roseland Community Hospital Legislative Breakfast on Tuesday, April 26 at the Kroc Center in the Greater Roseland Community on Chicago's far Southside.
The event featured messages from U.S. Senator Dick Durbin (D) and U.S. Representative Tammy Duckworth (D) along with Illinois House Republican Leader Jim Durkin. 
Every speaker and every attendee was focused on the current State of Illinois budget impasse and what needs to be done to save Illinois Safety Net Hospitals.
"Hospitals can't simply lock their doors until sanity prevails in Springfield," Sen. Durbin said. "Make no mistake, this budget impasse is costing our state additional Federal money. I say enough is enough. It's time for the state to get its act together and pass a budget."
Additional speakers included Cook County Commissioner Deborah Sims, Illinois State Senator Tony Munoz, Cook County Board President Toni Preckwinkle's Political Director John Keller, Shriver Center President and CEO John Bouman and New RCH President & CEO Tim Egan.
"In 2015 safety net hospitals Illinois generated more than 70,000 jobs all across the state," U.S. Rep. Duckworth said. "Without your work on the front lines, without your compassion and decency; the people in this community would have nowhere to go. We need to ensure that hospitals like Roseland receive the resources they need to support our most vulnerable communities and I pledge to do my part to help you."
While the budget impasse has been a scorched earth battle between party lines in Illinois, one of the brightest leaders from the Republican side of the aisle attended and affirmed his support for the New RCH and Safety Net Hospitals.
"I've talked to Tim Egan at length about the struggle that he goes through," IL Rep. Durkin said. "I also put challenges to him and his counterparts to find creative ways to help us help them and they've done that. It's my commitment to help him and safety net hospitals to survive and get through this budget impasse."
One creative way Egan and the Association of Safety Net Hospitals and the Illinois Hospital Association have advocated is with House Bill 5750, which could potentially generate $1.6 billion in additional Medicaid funding by implementing a simple .01% assessment on all insurance claims. That assessment would be matched with Federal funding. Additional funding is needed by the New RCH and all Illinois Safety Net Hospitals.
"Roseland Community Hospital is an anchor to the Roseland Community," Sen. Durbin said. "It's really a lifeline for thousands of families in that area and boy has Roseland come a long way. Over the last three years under the leadership of Tim Egan, we've seen Roseland return from the brink of bankruptcy to being a functional and important life support institution for the region. In fact, the hospital has come so far it's now being called 'The New Roseland Community Hospital.'"
The New RCH is the community's integrated and coordinated healthcare choice, where professional caregivers provide guidance on the path to recovery and overall wellness.
Source: The New Roseland Community Hospital
---
Categories: Healthcare, Affirmative Action and Equal Rights, Government
Tags: Politics, Safety-net Hospital, State of Illinois Budget
---