3Dazer Disrupts the Home Improvement Marketplace With the Launch of the First Hand-Held Laser Measurer Attachment and Award-Winning Project Management App for Smartphones
Press Release
•
updated: May 8, 2018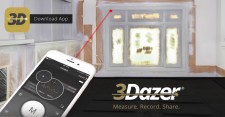 NEWPORT BEACH, Calif., May 8, 2018 (Newswire.com) - 3Dazer (www.3Dazer.com), owned by Laurel At Sunset Inc., announced today the official launch of their one-of-a-kind laser distance measuring solution that attaches to the user's smartphone and syncs with a project management app (available in the App Store and Google Play).
This laser measuring device could give the hardware and home improvement industry giants a run for their money, as well as revolutionize how construction contractors, subcontractors, general contractors, project managers, interior designers and "do-it-yourselfers" utilize their tools and manage their day-to-day tasks and communication. The significance of this device is that when working together, the laser and app measure at an accuracy of 1/16", making it one of the most accurate laser measuring devices on the market. Additionally, the app can be used independently for project management and is now award-winning, thanks to the 2018 American Business Awards.
Currently, the laser can be purchased at www.3Dazer.com and the app is available for free download on iPhone and Android smartphones. 3Dazer is the ONLY laser measuring device on the market that is driven by a mobile project management app and can work together with a user's smartphone. The 3Dazer device gives users the unique ability to combine sensors from the gyroscope in the phone with sensors in the device, to determine accurate measurements. The 3Dazer laser and app offer both professionals and homeowners the ability to easily measure distance, area, perimeter and volume up to 260 feet, using direct and indirect measurements. The laser provides both imperial and metric readings and takes single, continuous and cumulative measurements. The 3Dazer laser is also equipped with an inclination sensor that helps with leveling, height tracking and measuring around obstacles.
Unlike other laser measuring tools on the market, the app stores all measurements in the cloud so that even if a user breaks their phone, they can recover their information. Additionally, the app allows the user to mark up photos, use a floor plan sketching tool and organize the measurements captured by the laser. The ease of the app allows professional users to not only share projects with their subs, co-workers, vendors and clients but also send instant live comments and push messages.
Media Contact:
Julie Leffler ​
Big Hype Marketing and PR
888.855.6738
​Julie@BigHypeMarketing.com
Source: 3Dazer