360 Towing Solutions Now Has Its New Service Center Equipped With Latest Towing Machinery in Houston
Press Release
•
updated: Jul 8, 2018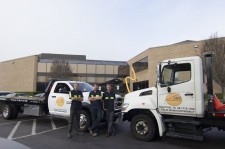 HOUSTON, July 8, 2018 (Newswire.com) - With its new service center opened in Houston now, 360 Towing Solutions owners look to serve the pickup truck and personal car owners in the area with increased efficiency.
Known to dispense professional towing and assistance services on roadsides to automobile users as and when needed, 360 Towing Solutions has recently come up with its new branch in Houston. Since the competition in the towing sector is steep, the owners of the towing solutions provider are looking to garner appreciation and gain traction in the Houston area by providing fast and reliable towing solutions at competitive rates. By coming up with another branch in Houston, the owners believe that they have made the right strategic move to expand their business in the state.
The towing Houston service provider has always worked on a 24/7 basis and their service center at Houston will be no different either. "There is a dearth of service providers that stand for reliability and professionalism and it was not really easy for us to stand out in the highly competitive market. As long as we do justice to customer requirements based on a fair pricing model, this new service center too will gain trust of the local car owners," said Asher Oren, one of the chief spokespersons of 360 Towing Solutions.
Right since its inception, the Houston towing service provider has been headed by highly experienced technicians and industry veterans who are not only knowledgeable in their respective fields, but equally adept at managing difficult situations. Apart from providing high-end towing solutions, the roadside assistance Houston service provider also delivers fuel in case some vehicle shuts down in the middle of any street or any other emergency issue arises.
At a recent press meet, Asher Oren said, "Being cost-effective as a service provider was our topmost priority when we opened our new service center in Houston. Now that we have come up with this new service center, we hope we can reach out to car owners in distress in within the shortest turnaround. We believe we can work in collaboration with the highway patrol agencies and the public safety officials."
About the Company
360 Towing Solutions is a licensed towing solutions provider serving the state of Texas, and particularly the Houston area.
To know more, visit https://360towingsolutions.com/houston/
Phone: (713) 388-6600
Source: 360 Towing Solutions