3 Keys Brewing Announces 'Bogo Burgers for Veterans'
Press Release
-
updated: Jun 20, 2017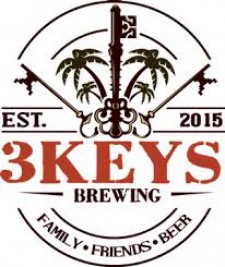 Bradenton, FL, June 20, 2017 (Newswire.com) - Today, 3 Keys Brewing & Eatery, a small batch craft brewery and community brewpub, announced the 1st Annual Billy Fred Day on June 25, 2017 to feed local veterans with buy one, get one burgers.
"We are a veteran-owned family business with a long tradition of service. Our grandfather, Billy Fred, was a WWII vet with 8 bronze stars and we want to celebrate his birthday by feeding vets in our community," says Cathy Douglas, Vice President of 3 Keys Brewing. "Everyone knows that old Army vet that lives down the street that doesn't get out much or perhaps sits next to a Marine at church on Sundays. On Billy Fred Day, bring that veteran in with you and when you buy one of our huge half-pound, hand-pattied char-grilled burgers we'll give your veteran friend a burger for free! Our vets deserve to be celebrated every day of the week, not just on holidays."
Cathy and husband, Jeff, came up with the idea of celebrating their grandfather during their two-year RV trip around the U.S. with three of their children. They visited over 125 breweries in 40 states before opening their own brewpub last November on Manatee Ave. Their eldest son Scott is the brewer. However, it wasn't until working with Turning Points, Manasota Operation Troop Support, SRQ Vets and Goodwill during their weekly Mission Mondays events that the idea really took shape. "There are a large number of veterans in the local community that could use a good meal and we have the facilities, space and passion to help out," says Jeff Douglas, President.
About 3 Keys Brewing Company
3 Keys Brewing Company is a small batch craft brewery and community eatery featuring local, fresh beers accompanied by salads, waffle sandwiches, tacos, burgers, spent grain pizza and more. To learn more, visit http://www.3keysbrewing.com/billy-fred-day, or call us at 941-218-0396.
Source: 3 Keys Brewery and Eatery
---
Categories: Music, Food and Beverage Services, Restaurants, Bars, and Catering, Beer
Tags: beer, bradenton, brewery, brewpub, craft beer, craft beer pub, local, micro beer, microbrewery, sarasota, venice, veterans.
---