2018 Annual Astrology/Feng Shui Talk Year of the Earth Dog on January 13, 2018
Kathleen Zemansky, Feng Shui Master, will present her 2018 Annual Astrology/Feng Shui Talk: Year of the Earth Dog on Saturday, January 14, 2018 at the Unity in Marin located in Novato, California. The workshop begins at 9 AM, followed by a reception. Come learn how to make 2018 the best year ever for life and business.
Press Release
-
updated: Sep 1, 2017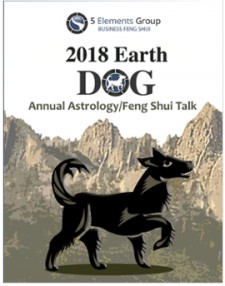 Marin, CA, September 1, 2017 (Newswire.com) - Feng Shui Master, Kathleen Zemansky, presents her 2018 Annual Astrology/Feng Shui Talk: Year of the Earth Dog on Saturday, January 13, 2018 at the Unity in Marin located at 600 Palm Drive, Novato, California.  The workshop itself is from 9 AM-5 PM, followed by a reception from 6-8 PM. 
This workshop is for people who are struggling because:
Their efforts aren't resulting in more income.
They doubt the direction they are taking in life.
Their personal or business life is sucking the energy right out of them.
Kathleen's vision and intuition combined with her in depth knowledge of Feng Shui, raises her high above other people in her field. Her upbeat personality and cheerfulness made working with her a delight.
If anyone wants to change all that in 2018 for their life and business:
Discover what options can support them in the Earth Dog Year.
Whether one struggles or succeeds depends on one's self-alignment. ​​
AM Session:
*Annual Astrology how will the Earth Dog affect YOU!
PM Session:
*Annual Feng Shui (Part 1) - each year the Feng Shui of your space changes. Be ready to make seismic changes to achieve your goals.
*Good Dates with the TimeBlazr™ Business Management System to help you get your year off to a good start using auspicious dates based on the ancient wisdom of the Chinese Calendar.
Meet and Greet with Kathleen and the Sponsors. This is a great networking opportunity. Bring your business cards immediately following the event!
"It's your birthright to understand who you are, and use that knowledge to create a successful, prosperous life that's uniquely yours," says Kathleen Zemansky.  "Let it be in 2018!"
Please go to http://www.astrologychart.5ElementsGroup.com to download and print a chart for oneself, friends, family, and colleagues.  This 5 Elements Business Astrology Map will provide the following useful information:
Birth Hour:  This is about one's dreams and aspirations, investments, one's capacity to make decisions, one's income.  (If the birth hour is unknown, no problem!  A lot of information will be gained from the remaining day, month and year.)
Birth Day:  This is all about "YOU" - and how one would like to be communicated with and how to communicate with others, how one is in partnership.
Birth Month:  This speaks to one's career and what one is best suited for, one's character, one's ambitions.
Birth Year:  This presents people's first impression of "you" (one's reputation), one's brand and marketing, one's capacity to expand.
For more information or to register for the early bird special price, please go to www.5ElementsGroup.com/Events  or call 415-690-9839.  Prices will go up in the weeks ahead, so sign up now for a great deal!!
PLEASE NOTE:  This workshop will also be available as a livestream event, so even if attending in-person isn't feasible, one still needs to register and purchase a ticket at the above site.   When a ticket is purchased online, virtual attendees will also receive a downloadable reference book of the astrological animals and their corresponding attributes with which to follow along during the workshop.
ABOUT KATHLEEN ZEMANSKY:
Kathleen specializes in Business Feng Shui, Astrology and Good Timing, and uses these tools to empower her clients to follow their unique birth map, optimize their physical workspace, use their greatest strengths at the right times, and achieve their personal and business goals to craft their destiny. Kathleen developed her proven date selection technology, The TimeBlazr™ Business Management System, to increase efficiency, productivity, and accountability for her clients, who are both entrepreneurs and professionals.  Kathleen's deeper passion is generating greater peace and understanding in the world through cross-cultural communication.  She believes her work is a way to pay forward the generosity and joy she has experienced in her world travels and studies.  She is thrilled to offer this timeless wisdom for a modern age to help make our world a better place to live, work and thrive.
Source: 5 Elements Group
Share:
---
Categories: Lifestyles, Conventions, Trade Shows, Meetings and Events, Training and Coaching, Business
Tags: 5 Elements Group, Business, Chinese astrology, Earth Dog, Feng Shui, Kathleen Zemansky, Management, Novato, System, The TimeBlazr, workshop
---